A photo booth is a unit that is specifically designed to allow one to take a few pictures in quick succession for entertainment purposes. While they are widely seen in carnivals and fairs, they are also used in weddings to not only provide fun but also to create very memorable moments.
They usually come with curtains or fabric walls allowing the person inside to have some privacy and be themselves while taking pictures. This allows people to express themselves in wacky and looney ways while taking pictures. This makes it ideal for weddings as you want people to be able to let their hair down and just take in the entire experience. However, there are several things you need to keep in mind before renting one for your wedding. Let's dive into some of them below and if you are wondering if photo booths are still in style, read this article: "Are Photo Booths Still in Style on Wedding?"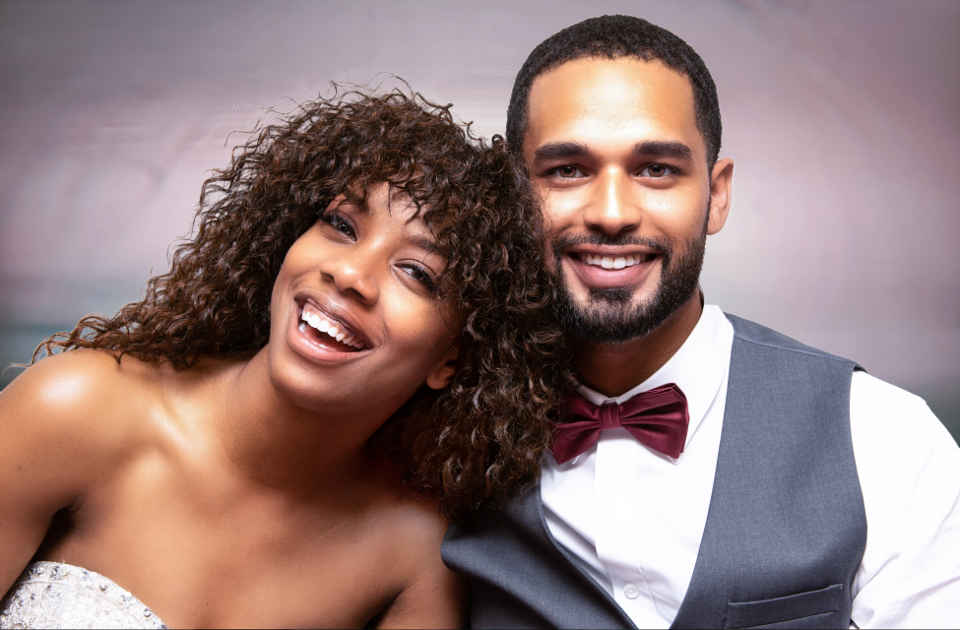 Everything you need to know about renting a photo booth for a wedding
Before you visit a vendor and discuss different types of wedding photo booths, their features and prices, there are a few things you need to decide. This will allow you to ask the right questions and make a better-informed decision later on.
Size – Although a photo booth is technically a compact unit, there is no rule that you should always keep it that way. Sometimes it's more fun to go in with five to six people and take some fun photographs. A wedding represents a singular moment in which people come together and celebrate the union of two individuals. People want to experience the moment together and so a larger photo booth will always be more convenient and fun for the guests.
Booth management – Some companies offer booths with someone to manage them whereas others let the renter take care of it. So if you can't find someone to manage it during the wedding, only look for companies that provide help.
Price – You should check out different booths offered by different companies to get an idea of how much they cost. Once you have a rough figure, you can tweak it as per your wedding budget to make it bigger or smaller as required. Try to have a firm idea of how much you are willing to spend and stick to it as long as it is reasonable as per the average cost.
Quality of pictures – This is one of the most important aspects to keep in mind before you approach any vendors. Some companies may have amazing photo booths but use bad quality printers which defeats the entire purpose of having a booth at your wedding. So before you visit any vendors, always ask for photo samples. If the samples look good, you can go ahead with them. Otherwise, keep looking for other vendors.
Photo options – To get more value for your money, always look for companies that offer both digital and physical options. Different people have different tastes and some still prefer to have physical photographs rather than digital ones. They can be framed and displayed openly whereas digital copies often get forgotten over time.
How to choose a wedding photo booth?
There are a few key aspects you need to look for when it comes to choosing a photo booth for your wedding. Here are some of them:
Rent or DIY – You can either rent a booth from a service or make one on your own. If you rent one, it will cost you more money and won't come with a great deal of customization but it will be more reliable. Most services will also help you out if you face any issues with the product. If you choose to make one for the wedding, you will be able to save a lot of money and customize it to dazzle your guests. However, if any issue comes up, you might have problems resolving it in time.
Types – Photo booths come in many different types and shapes such as boxes, tents, pipes with drapes and even pods. When it comes to choosing one for your wedding, don't go for one based purely on its appearance. Convenience is what you need to look for because it's more for the guests and you want them to have the best time possible. The location you plan to put the booth should also be factored in when you choose the type of photo booth you want to go for.
Features – Whether it is rented or a created one, features and functionality are what will make a photo booth experience memorable. Rented ones especially come with unique functions as their respective companies need to make their product stand out from each other. From props, green screen, video to even scrapbooking, there are a ton of unique features to look for before renting or creating one. Some come with pop up powder rooms where you can spend some time to put on some fun makeup or make sure you look good before taking pictures.
Value – A photo booth for a wedding is going to be useful only for a single day. A wedding is expensive even without any frills or special activities. So you need to make sure that the booth you are planning to get gives you enough value to justify its price. Some companies offer package deals whereas others will up-sell some of their services. The only thing you have to ensure is that when you rent a photo booth, it should come with digital photos included. If the photos are going to cost extra, then it's not going to offer you a lot of value for the money being spent.
What type of photo booths can you rent for a wedding?
Depending on your budget and venue, there are a plethora of photo booths you can rent to make your wedding as memorable as possible. Here are some of them:
Open air booth – They don't come with any walls or covering and won't offer privacy. However, with it, you will get a camera on a tripod that you or your guests can control to take unique shots.
Traditional booth – The most commonly used one, traditional booths are covered from all sides and require people to cramp together and take silly and creative pictures.
Slow motion video booth – These allow you to take slow-motion videos instead of still photographs and are a great way to create some memorable experiences.
GIF maker booth – Instead of normal photographs, you get GIFs of the various shenanigans pulled inside the booth.
Flipbook booth – These booths not only take photographs but also create a fun flipbook for everyone to enjoy later.
Green screen booth – This is probably the one that allows you to be the most creative as it comes with a green screen background on which you can superimpose different backgrounds.
How do photo booth renting companies work?
There are many different aspects to consider when trying to understand how photo booth renting companies work such as
Photo booth packages – Most companies offer their packages for an "x" amount of cost for a minimum of three hours. This is done so that they can cover the costs incurred for transportation, setup and managing.
Additional costs and Services – Some bundle the cost of printing photographs with their photo booth packages while others will keep it separate. Some will allow you to take more photos per session and others will offer less. In most cases, the overall cost will remain the same but you have to inquire about it to make sure you won't end up with a huge bill.
Customized services – Most photo booth rental companies not only have experienced staff on standby but they also allow you to incorporate your ideas into the booths. You can change the backdrop, props and overall ambiance to your liking. Some companies may charge extra for this but you can also find ones that do so with all of their packages.
What to discuss with the vendor before renting a photo booth for your wedding?
When it comes to weddings, you want everything to go as smoothly as possible because once it starts, you won't have any time to resolve any issues that may occur. Here are a few things you should explore with the vendor before renting a photo booth for your wedding.
Idle charges – Some companies charge idle time with a small fee. So if you are planning to rent one for a total of four hours but want to split it into two-time slots separated by two hours of idle time, then any extra charges may increase the overall cost beyond your budget. This will depend on the vendor of course as some don't charge for any idle time whereas others will be open to discounted rates. Make sure you discuss this with the vendor before renting a booth.
Visual templates – Most companies will either have an in-house designer or a series of templates to show you how the booth looks and functions. Some will allow you to customize it as per your specific requirements so that you can create a one of a kind experience for your guests. Before you rent one, contact the vendor and meet them in person to discuss about their templates. You can do it online but there is always a risk of the final product not looking or functioning the way you thought it would. Always make these decisions in person to make sure your requirements are put forth as clear as possible.
Additional services – No matter what type of photo booth you go for, at the end of the day, its most important component is an electronic camera. Any electronic object can malfunction at any time, which makes it vital that you check for additional services with your vendor. Will they provide you with backup equipment if anything fails? Will they send someone over to handle any technical issues? If so, will it cost extra or be included in the given quote? If they don't offer such services and an issue occurs, will they give you a refund or at the very least a discount? Make sure to ask all cost-related queries before renting one.
A few popular photo booth companies
Here are some of the popular photo booth rental companies found in the below places.
New York
It's Electric – Located in Long Island, It's Electric photo booths are known for their high-quality services. They provide a wide variety of props, enclosed and open-air booth options, high-resolution photographs with customizable logos and an online gallery for viewing the digital copies. They also come with a few convenient add-ons such as a social media kiosk, photo guestbook and custom backdrops at an extra cost.
Philadelphia
Mini-Booths – Based in Philly, they are of the most popular photo booth rental companies that provide unique services for weddings and other events. They offer unlimited booth use and reprints, customized photo strip graphics, an attendant, different silly props, an online gallery and even free light retouching services. What more could one want?
New Jersey
Photobomb – They are based in Jersey City, NJ and are known for their attractive and unique photo booth services. Some of them are unlimited reprints, amazing custom props, GIF animations, social media sharing, scrapbook services and great selections of diverse backgrounds. Their packages start with a minimum time of only two hours and go up to 6 hours making it ideal for weddings. They also offer DJ and photography services as well.
Pennsylvania
Philly Snap Booth – They stand apart from a lot of their competitors due to their creative approaches to photo booth services. They provide two types of booths; a color booth and a vintage one and both of them are uniquely designed to turn heads. They also provide a nice selection of backdrops and add-ons such as green screen, photo filters, scrapbook and more. They also offer a selfie stand service that consists of unlimited digital photos, burst sessions, animated GIFs, filters, social media sharing and more.
Related Questions
How much do photo booths cost?
There are many different types of photo booths you can rent for a wedding and each one may vary as far as cost is concerned. However, it is possible to categorize them based on their features. Budget ones start around $140 but the quality may not be that great. Some exceptions will be there, of course, so do keep an eye out for them. Good quality ones for weddings usually come in the range of $400 to $600 as they have more features and options. The higher-end ones cost a whopping $1000 and more and come with a wide variety of features and customization.
Wouldn't it be better to create a photo booth by yourself to save costs?
Unfortunately, the effort and cost required to create a photo booth are seldom worth the trouble as many things can go wrong. While doing it for personal use or small functions at home might be ok, it's not worth the risk when it comes to a wedding. The purpose of the booth is to help guests loosen up, have fun and create memorable experiences. A DIY photo booth may break down and shut down the entire activity for the night. When you rent one, you get the option to either have an attendant or someone on call for any technical issues. A DIY booth will require you to ask your friend or family member to take up such responsibilities to ensure that issues get resolved in time but it would be unfair for you to do so. After all, they would want to take part in the festivities as much as everyone else.
How can I find the right photo booth rental companies online?
The most efficient way to find photo booth rental companies online is to do a quick search on Google. Some websites either allow you to search for them specifically to a location or by ratings. Once you have shortlisted a few of them near your area, you should check out their Yelp reviews to gauge the quality of their services. If the reviews are mostly positive, you can contact them online and ask for a quote based on your specific requirements.
Header Photo © Crawford Jolly / Unsplash