A wedding by itself is an expensive ordeal and requires you to spend a significant amount of money. While it may be worth the cost as it is a one of a kind experience, there are several aspects where people might try to save as much money as possible. The question of buying or renting a tuxedo or suit is one of them.
Should you rent or buy a suit or tuxedo for a wedding? If we plan to wear a tuxedo for a wedding, renting it seems to be a better idea, because after your wedding your tuxedo will end up in your closet probably forever. If you choose a suit, it is better to buy it, because it will be useful on many other occasions.
To get a better idea of whether you should rent or buy one, you need to look at all the pros and cons to see how your specific requirements can be met. Let's explore the subject further to see what will work best for you.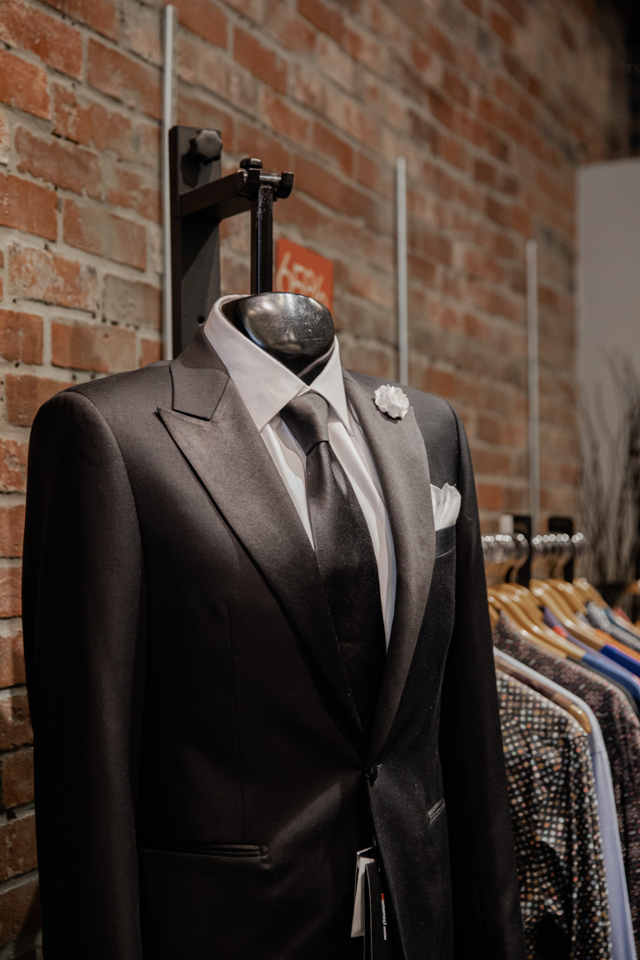 What are some of the factors you need to consider to decide on renting or buying a tuxedo/suit?
Although this might seem like a simple decision which you can take by looking at its pros and cons, the reality is that it is a bit more nuanced. Renting and buying a tuxedo or suit for a wedding has equally significant disadvantages and so must be a decision you take after a good amount of deliberation. Here are some of the most important factors to consider before making that decision.
Budget – Perhaps one of the most significant factors that end up tilting the decision in one way or the other, your budget is something you need to look at before deciding. A good wedding tuxedo or suit is often very expensive, especially when you get to wear it only once or twice. Renting it may be lighter on your wallet but buying one will be more cost-effective if you know that you will be wearing it more than two to three times. In most cases, buying a tuxedo or suit for a wedding pays for itself by the second time you use it. Renting one makes more sense if you only do it once or twice due to rental charges, stain removal, and other hidden fees.
Fitting – This is also important to consider before opting to buy or rent a tuxedo/suit for a wedding. Every individual has a unique appearance and body size and not everyone can wear the standard sizes. For some, a large size might be too tight and an XL might be too loose. If you are one of them, then renting a tuxedo might not be the option for you as you will have to spend a substantial amount of time looking for the perfect fit. Buying one might cost you more but you will be able to get it altered perfectly to your liking.
Body Type – Some individuals stay the same size no matter what they do whereas others fluctuate wildly when it comes to body size. If you are someone who manages to consistently stay the same size, then buying a black tuxedo or suit will make more sense. You will be able to wear it again whenever another occasion pops up without worrying about whether it will fit or not. If you tend to lose or gain weight quickly, then renting one might be a better option.
What are some of the pros and cons of buying or renting a suit or tuxedo?
If you are still unsure about renting or buying a suit or tuxedo for a wedding, then the below pros and cons might help you out a bit.
Pros of renting a suit or tuxedo for weddings
For a single time use, it allows you to save a significant amount of money.
It provides you more value as accessories also come included in most rental tuxedos. So you don't have to spend more on buying a shirt, shoes, cufflinks or ties.
You can afford a high end branded product easily by renting it. Buying a high-end tuxedo or suit might burn down your wallet to cinders but by renting it, you will be able to afford it more easily.
Cons of renting a suit or tuxedo for weddings
One of the biggest cons of renting tuxedos and suits is that you never know who wore them before and how hygienic they were.
Another issue is fitting. Rental tuxedos all come in standard sizes and may not provide the same fit as that of a tailored one.
It costs more if you rent a tuxedo more than twice due to the various fees associated with rentals.
Pros of buying a suit or tuxedo for weddings
As far as fitting goes, buying is the way to go. You can alter it to your specific requirements and make sure that it fits your body shape perfectly.
It's more affordable if you wear it more than two times. As most rental tuxedos are only half the cost of its original price, renting one, again and again, becomes a lot more expensive.
You never have to worry about who might have worn it earlier. You can enjoy the wedding without having a nagging thought at the back of your mind.
Cons of buying a suit or tuxedo for weddings
They can be very expensive especially as it's a one-time purchase.
If you become thinner or fatter, then it will become useless.
You also have to spend extra cash on buying matching accessories such as shoes, ties, and cufflinks.
Related Questions
Should I wear a tux or a suit for my wedding?
Although it mostly comes down to preference, there are a few key aspects that you might want to consider before getting either one of them. A tux is considered to be an evening wear no matter what the occasion may be. A suit, on the other hand, is considered to be better worn during daytime events. If you are having a black-tie wedding, then a tux will of course be the one to wear but if it's a less formal affair, you can go for a suit. Another important aspect to consider the type of dress your bride will be wearing. If it's a gown or something equally formal, a tux would be a better match whereas if she is wearing something like a tea-length dress, a suit would be an ideal match.
Is a tux more expensive than a suit?
Yes, they are, in most cases. High-quality tuxedos can cost anywhere from $700 to $1000 which is a substantial amount of money. This is primarily because most high-quality tuxedos are almost always designer made. Suits are far more affordable and start at the $300 range when it comes to quality. You also need to buy more accessories when it comes to a tux such as a vest, formal shirt, cummerbund and studs which will again raise the cost.
What can I do with a tux after the wedding?
Here is where owning a suit becomes more advantageous than a tuxedo. However, this is not to say that one is better than the other. For strictly formal events, you will have to wear a tuxedo as that is the norm. Wearing a suit to a black-tie event might not even get you access to it. So after the wedding, you can wear your tuxedo for pretty much any formal events or gatherings. One of the biggest advantages of having a tuxedo is that you can wear it for almost anything except for when you go to work. A suit on the other hand is suited mostly for only semi-formal events and the office.
Header Photo © Dennis Ottink / Unsplash