When somebody hears the term 'elopement wedding', it might raise their eyebrows or make them break into a chuckle. Contrary to what a lot of people think, an elopement wedding doesn't refer to a wedding of a couple who have eloped from home. No, it's not as controversial as you would have imagined it to be. So, what is an elopement wedding?
As general rule elopement wedding is one in which a couple gets married in the presence of a small gathering of people comprising of their family members and a few close friends. Back in the day, an elopement wedding was described as one in which a couple, who have run away from their home, get married to each other. Now, it is a phrase that is used to describe a small, intimate wedding.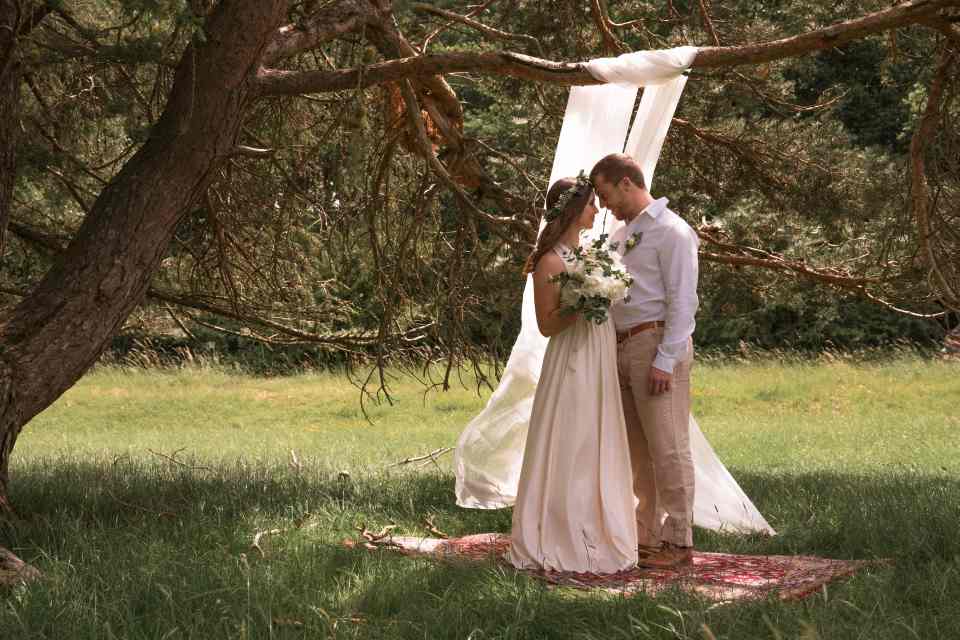 What makes a wedding an elopement?
In today's day and age, an elopement wedding is a term that is used to refer to a wedding that was organized at a short notice and carried out exactly as per the wishes of the bride and the groom. An elopement wedding doesn't have the kind of grandeur that one associates with a traditional wedding ceremony. I remember attending the elopement wedding of my friend a couple of years ago. As per the bride's wish, it was conducted near a beach and the number of people attending it was no more than 15.
What is the difference between a wedding and elopement?
The most basic difference between wedding and elopement is, perhaps, the scale at which they are organized. A conventional wedding comprises multiple events and ceremonies and is carried out with a lot of pomp and show.
In the past, elopement referred to a couple running away or eloping without the knowledge of their families and tying the knot. However, its definition or context has changed drastically in modern times. Today, when somebody says they are planning for an elopement wedding, they mean that they are planning an intimate wedding that will be marked by the attendance of very close friends and immediate family members.
What states can you elope in?
You can elope in any state as there is nothing illegal about it. As per the modern-day definition of an elopement wedding, it's a very personal affair and most of the things in an elopement wedding are planned by the bride and the groom. Because of the nature of this wedding, the couple settles for a beach, a mountain area or a sand dune as the preferred location for the wedding.
Do you need a marriage license to elope?
No, you don't need a marriage license to elope. In an elopement wedding, the couple takes the vows in the presence of a very small gathering. Even if you go by its traditional definition and take into account a situation in which a couple is running away from their homes and getting married against the wishes of their family, there is nothing illegal about it. The only thing that matters is the bride and the groom should be adults and have attained the legal age of marriage.
Related Questions:
What do you do after an elopement?
Since an elopement wedding is different from a traditional wedding, the things that you do after its conclusion are quite different from the events that unfold after a traditional wedding ceremony. There are several interesting things that you can do after elopement including getting candid pictures clicked with your family and friends or you can celebrate the occasion with your favorite food or drink. You could also plan an adventure trip together. If your family members didn't attend the wedding, you could get onto a video call and share your post-marital feelings with them.
What paperwork do I need to elope?
When you plan an elopement wedding, you would be required to fill up an application to procure a marriage license in the state or the city that you wish to get married to your partner in. While applying for it, you will be asked to provide the authorities with some identification proof like a passport or a state ID. In case you were married to somebody in the past, you might be asked to submit proof and details of your divorce.
Is it cheaper to elope or have a wedding?
It is much cheaper to elope than opt for a conventional wedding ceremony. Since an elopement wedding ceremony is attended only by a limited number of guests, the expenses involved in this type of wedding are much lesser than those involved in a traditional wedding ceremony comprising a variety of events and ceremonies. According to a survey, an average wedding ceremony in the United States costs between $30,000 – $35,000. An elopement wedding, on the other hand, could be organized for as little as $500 – $1,000. According to wedding planning companies, the cost of even the most lavishly organized elopement wedding doesn't go beyond $15,000. (Recommended article: 'How Much Does the Elopement Cost?')
How much should you spend on an elopement?
A friend of mine who didn't believe in lavish weddings that cost a lot of money organized his elopement wedding for just about $1,200! It was a simple wedding ceremony with just the couple's family members and a few friends in attendance. According to a survey, the cost of organizing a fairly elaborate elopement wedding ceremony ranges from $5,000 – $15,000. The trick to keep the budget under control is to remember that the very essence of an elopement wedding ceremony is minimalism.
What do you need to know before eloping?
When you decide to opt for an elopement wedding with your partner, you must make it a point to plan things properly. Since it is going to be an intimate and personal affair, you must chalk out a guest list thoughtfully. Decide a number in your mind and ensure that you don't invite too many people. The location plays an important role in an elopement wedding, so you must decide that several days in advance too. It is important to finalize a budget so that you don't go overboard while planning the few ceremonies or events that would be conducted on the wedding day.
What do you wear when you elope?
Since an elopement wedding is often described as an informal ceremony as compared to a traditional wedding ceremony, the attire you will be wearing has to be fairly casual. For an elopement wedding, the bride-to-be could sport a pantsuit or a white-colored cocktail. The groom-to-be can turn up in a white shirt and a pair of dark-colored trousers. While there is no dress code for an elopement wedding, I have seen couples dress up in fairly simple attire in most of the ceremonies I have attended.
Are you legally married if you elope?
Absolutely! An elopement wedding, in the eyes of the law, is as valid as a traditional wedding ceremony. However, as is the case with a conventional wedding, you must remember to abide by the rules and regulations of the city, state or the country you are getting married in. After the conclusion of the elopement wedding, you have to take the necessary steps to get your wedding registered and sign the requisite documents to make it legally valid.
Can we invite people to our elopement?
Yes, you can invite people to your elopement. Ideally, an elopement wedding ceremony should not have more than 20 guests but there is no hard and fast rule to it. You are having an elopement wedding according to your wishes so just make sure that the guest list isn't too long. When my sister and her boyfriend opted for an elopement wedding, they curated the guest list themselves and ensured that no more than 15 people were in attendance.
Do we need witnesses for our elopement ceremony?
Whether you would require witnesses for your elopement ceremony would largely depend on the laws and regulations surrounding weddings in the area you plan to get married in. These laws vary from state to state and therefore, you must check them once before you start making all the arrangements and decide who will attend your wedding. To be on the safe side, you should have at least two witnesses for your wedding. They could be members of your family or friends.
Do we need a wedding officiant for our elopement?
The location or the city in which you have decided to have your elopement ceremony will determine whether you need a wedding officiant or not. The marriage laws are different in each state or country, so once you decide the location, you must do some research and find out whether you need an officiant to secure the validity of your marriage or you have the option of self-solemnizing your marriage.
Header photo © Jonathan Borba / Unsplash