The beach has become the favorite destination for many couples. A beach wedding has its own uniqueness and beauty. The musical sound of the sea waves and the stunning white sand provides a breathtaking plot for a destination wedding. In fact, a beach wedding is like a small vacation for the couple as well as the guests. Amazing wedding photographs and unlimited fun for guests make beach weddings a hit. Well, a wedding at a beach is far from the usual traditional wedding that's often hosted in an elaborate indoor setting. So, there's a lot to consider if you're planning to host a beach wedding. Here I've made a list of everything you need to know about a beach wedding. What exactly is a beach wedding?
A beach wedding is a wedding ceremony that takes place on the beach or close to a beach. It could be a seaside wedding reception, destination wedding or ceremony by the ocean. You start with choosing the venue followed by getting relevant permits to host the wedding. It's important to pick the right décor, menu, and attire. It's also crucial to keep your guest list short for a beach wedding.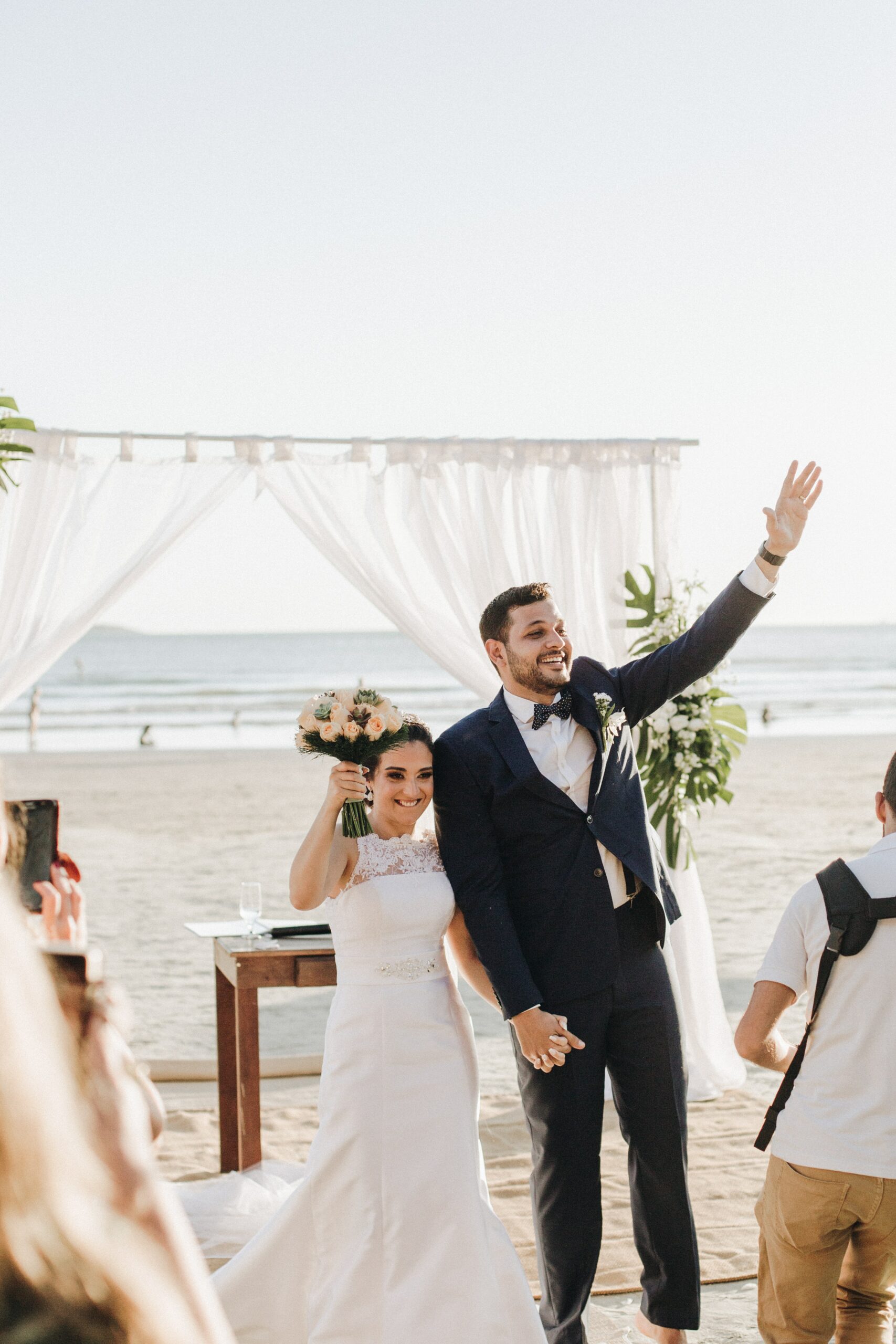 Why choose a beach wedding?
There are reasons why you should choose a beach wedding. The lovely waves hitting the shore, the soothing sea breeze and the soft white sand make the beach a perfect romantic setting. It's really amazing to celebrate your wedding in such a breathtaking location. I've more reasons why you should choose the beach to host your wedding.
Relaxed, calm, comfortable, and elegant
A lot of people are of the opinion that beach weddings are not elegant. It's not true. Beach weddings can turn out to be as sophisticated and elegant as you choose. While your attire is a little different to suit the beach environment and the temperature, a beach wedding can still remain elegant. Moreover, the couple and the guests can feel more comfortable with the softer fabrics. Similarly, you don't need the stiletto heels which means you can dance for a longer time. Men can wear light-colored suits. On the whole, a beach wedding appears calm, relaxed and elegant.
Simple yet sophisticated décor
For a beach wedding, you don't need an intricate décor. In other words, you don't have to spend a lot of money on decorations. The beach offers a naturally beautiful setting for your wedding. The green palm trees, dazzling white sand, glittering blue water, and dancing waves provide a perfectly picturesque backdrop. This simplicity is perhaps the ultimate sophistication.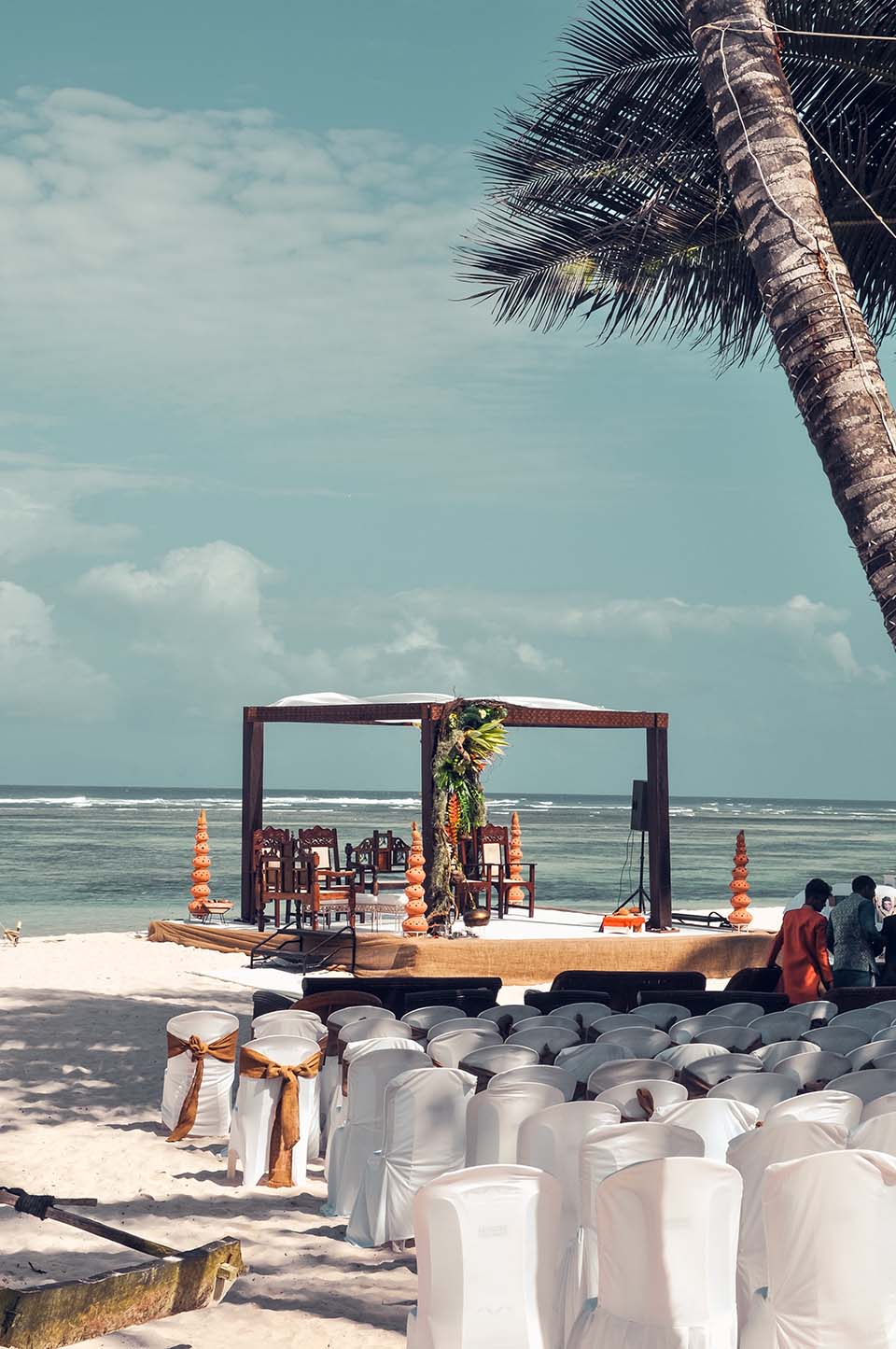 Destination weddings
A beach wedding means you and your guests get to enjoy an amazing vacation of excitement and adventure before, during and after the wedding. Your family and guests will really thank you for the memorable time spent together. What's more, you can choose to combine your wedding and your honeymoon at a romantic resort at the beach.
Romantic, Dreamy Setting
One of the most apparent reasons to have a wedding at the beach is the romantic and dreamy plot. With the sparkling blue waters in the background, the sunlight striking your face, and the enchanting sea breeze, it's a great way to kick start your life together. If it's an evening ceremony, the moon and the star-studded sky will add to the mood. This is one of the best ways to start your journey of love and togetherness.
What should you consider when planning a beach wedding?
There are a few important things you should bear in mind when you plan a beach wedding. I've listed everything you need to know.
Beach permit: A beach permit may not be necessary at all venues, but there are places that demand one. So, when you book a beach venue, know whether a beach permit is required. Find out all the regulations in both the private and public settings so that you can make appropriate arrangements.
Planning is the key: An important thing you must find out is the time when the beach is the most crowded. You may have to avoid this time so that you have enough privacy and your wedding doesn't become a circus. As a general rule, beaches will be quieter on days other than holidays and weekends. Some beaches don't permit events on public beaches. In such places, you may have to rent a beachside resort or villa. On the whole, plan wisely to avoid problems on your big day.
Seating arrangement: When it comes to a beach wedding, you should arrange sturdy seating for your guests. Sturdy furniture will withstand the strong winds and will not sink in the sand or collapse. You may consider wooden benches, aluminum chairs, robust folding chairs, or stylish waterproof ottomans to get your guests seated comfortably.
Highlight the natural features of the beach: As the beach itself provides you with a sizzling backdrop, you don't have to overdo anything here. Rather, you can focus on highlighting the natural features. It could be the palm leaves and seashells. You can make use of the lovely hues of the sea and sand to create a theme. Add in elements like fresh produce, dune glasses, and stones to make it more vibrant and lively.
Prepare for windy conditions: There could be heavy winds at a beach. Prepare well for a windy day though it's not expected. If you are planning to toss flower petals, wait until the guests arrive and do it at the right moment. Secure the flower petals properly when not in use. Also, secure the chairs so that they don't get blown away by the winds.
Shoe rack stacked with flip flops: Beach weddings are different. No one can walk about with sand in their shoes. Have a shoe rack where your guests can leave their shoes and take a pair of flip flops to wear. Make sure you have a provision wherein guests can wash or wipe the sand off their feet. You may need a seating area, a place to leave the shoes, flip flops of varying sizes, towels and water.
Refreshments: Cold drinks should be your choice to beat the heat. Have a table set up with ice water, lemonade, or a signature cocktail. This goes a long way in keeping your guests refreshed and relaxed at the beach.
Welcome package for guests: Ensure you inform all your guests about the wedding venue. Despite your efforts, there may be guests who come less prepared. To avoid inconveniences for such people, you can offer a fun welcome package. Stuff the welcome package with hand towels, sunscreen, hand fans, bottled water and bug repellants.
Backup plan: You can never trust Mother Nature completely. The weather could change anytime, bringing in showers and strong winds. Hence, have a backup plan. Have a tent or canopy in place so that you can keep everyone dry and cool in case of showers. Or you can have a plan B option to hold the ceremony somewhere indoors.
What to consider when choosing the venue?
There're a few things you should consider when choosing the venue for your beach wedding.
The location: Choosing the wedding venue is one of the biggest decisions of your wedding. Decide if you want to pick a venue in your own city or whether you wish to travel and pull off a destination wedding.
The date and guest list: You've to be really thoughtful when picking a date for your wedding, especially when there are kids on your guest list. If you've guests who'll attend the ceremony with kids, you must consider holidays or weekends. Choose a venue that's convenient by all means and can accommodate you and your guests comfortably.
Public beach vs. beach resort: You've to decide whether you're exchanging vows on a public beach or you're using part of a beach resort or villa. If the beach you've chosen is part of a resort, get information on holding a wedding ceremony there. If you've picked a public beach, you can obtain information from the local authorities. Before booking the venue or getting permission, ensure you do adequate research, check reviews, ask questions, and look for online resources. If it's a foreign place, think of hiring a destination wedding planner who can plan the beach wedding on your behalf.
Advance booking: If you are hosting your wedding at a beach that's part of a resort, you've to book the venue well in advance. The resort will take care of a lot of your proceedings. You don't have to go about getting permission on the day of the wedding.
What should you know about the beach wedding permit?
Generally, a permit is not always needed for a wedding held on a public beach. However, if the guest count is large and you wish to reserve a part of the beach for some time, you may probably need one. When you confront the local authorities regarding your beach wedding, ask the following questions:
Does the beach demand a permit for a beach wedding?
Provided there isn't any permit required, is there any other fee?
If there's a fee, how's it structured? Is it on an hourly basis or is it a flat fee?
How many days ahead should I seek permission to get approval for the beach wedding?
How much area can I use for the wedding?
Do I need liability insurance?
Is there a limit on the number of people allowed under this permit? If yes, how many?
Should you pay to access the specific spot of your beach wedding ceremony?
It depends on whether the beach you've chosen is public or private. If it is a private beach, you will definitely have to pay. On the other hand, public beaches seem to be a little less definite. You'll have to consult the local authorities about a possible beach wedding permit and other fees if any. Regarding the permit, it may cost anywhere from $20 to $500 depending on the beach, the date, and the affluence of the area surrounding the beach.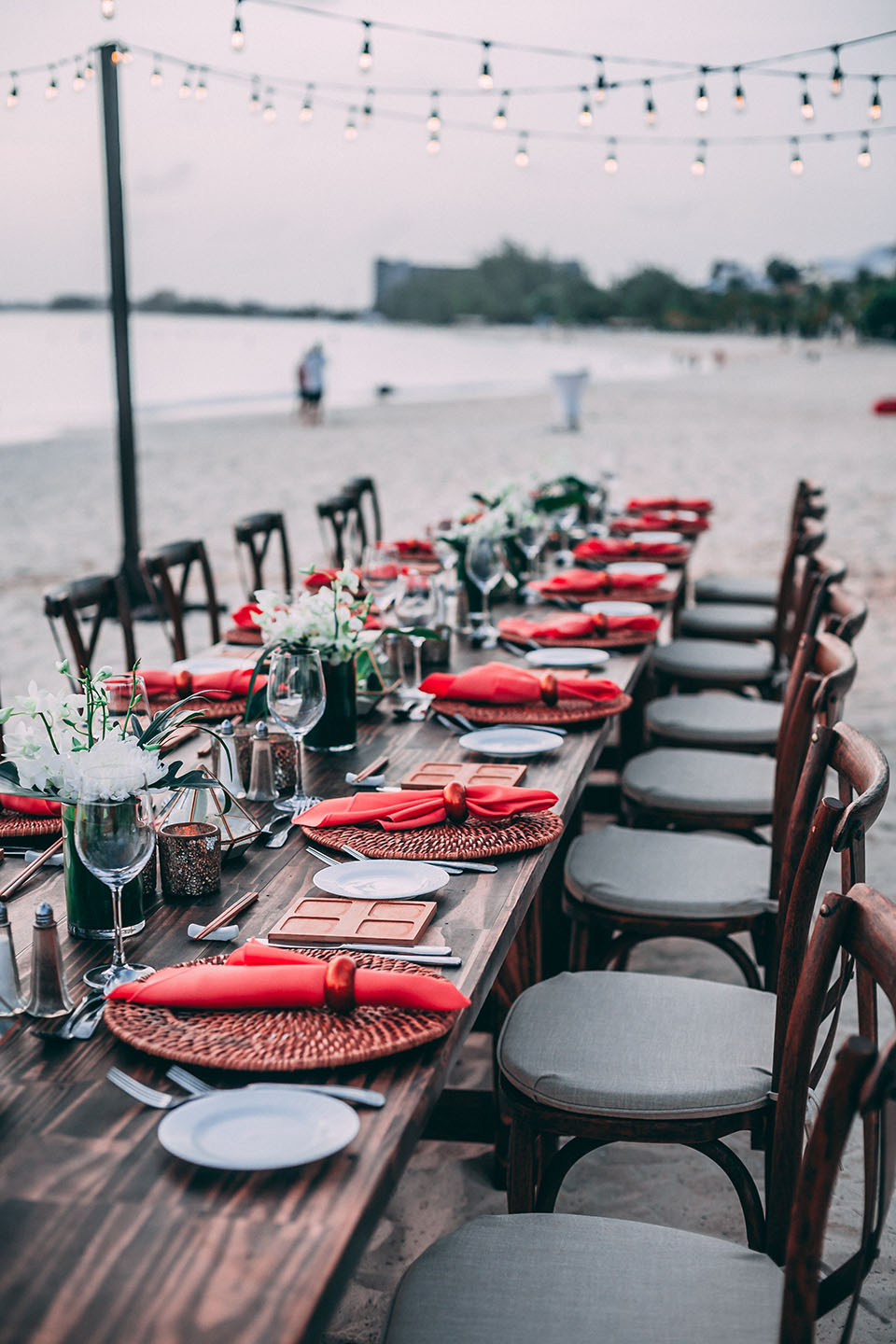 What's the average cost of a beach wedding?
The average cost of a beach wedding is $1300 to $2200. Here's a basic idea of what you'll have to pay when you hold a beach wedding:
Beach wedding permit: anywhere between $20 and $500
Marriage license: depending on the location, anywhere from $10 to $200
Wedding arch: anywhere between $50 and $300 based on the complexity, material and craftsmanship involved
Flowers: An average of $700
Furniture rental: Around $500
You should note that this cost is non-inclusive of the wedding attire, food, and miscellaneous expenses.
What should you know about beach wedding logistics and restrictions?
There're several questions you need to ask the concerned authorities before planning a beach wedding. Here is the list of questions to ask for a hassle-free celebration:
Can I hold a wedding on any date? Are there any restrictions on holidays, weekends, and the like?
Is it possible to reserve a particular time slot for our wedding ceremony?
Are any other events or programs permitted on the same date I've sought permission?
Do you allow delivery trucks near the ceremony site?
Can you brief me on the parking space and restrictions?
Can the site of our ceremony be cordoned off so that we get some privacy?
Do we have access to public washrooms nearby?
Are arches, chairs, aisle runners and other decorative items allowed?
Can we use amplified sound? What's the limit on the decibel level, if any?
Is alcohol allowed?
Is there access to electrical outlets? If not, are we permitted to bring a generator?
What's your policy on pets?
Are fireworks and open flames allowed?
Can we hold a beach reception?
Do you permit cooking and dining on the beach?
What are the other restrictions on holding a wedding at this beach?
What are some beach décor ideas?
I've listed a few unique beach wedding décor ideas for you.
Sea glass: Sea glass offers a lovely ombre effect with tones of green, blue and white. You can dress up the bridesmaids in an array of stunning sea shades like turquoise. It's also a great idea to adorn your wedding tables using a range of vibrant glass vases and bottles.
Driftwood: While driftwood is organic, it's unexpected. Moreover, it's classic. You'll be amazed at how washed-up wood pieces can be converted into beautiful wedding décor elements. The good news is these are extremely budget-friendly. Whether it's a rustic ceremony arch or brilliantly designed place cards, driftwoods are super romantic.
Tropical leaves: Foliage is the new floral. Using tropical leaves is a cool idea if you want a natural décor element. Make use of the giant Monstera leaves or the Verdant palm fronds to lend a modern yet beach-y vibe to the overall wedding design.
Pearls: Pearls are apt to adorn the bride at a beach wedding. You can use these cute little orbs to add more style to your looks and ceremony.
Sea coral: Coral provides a kind of "under the sea" vibe that's an ultimate addition to your beach wedding. However, ensure it is artificial coral. You can choose beautiful handmade versions of coral. They're not only aesthetically pleasing but eco-friendly as well.
What to wear for the beach wedding?
I've some apt ideas for the most bothering question in your mind, "What to wear for the beach wedding?"
Let's start with tips for the bride.
Choose a lighter dress: The regular attire of traditional weddings, the long gowns, may not be an ideal option for a beach wedding. While these gowns may look dreamy, you'll have trouble when you navigate the beach, for example, while taking photographs. So, look for a lighter dress or at least make sure your dress allows you to easily walk on the sands.
Wear lightweight fabrics: Go for fabrics like charmeuse, crepe, or chiffon that will make you feel airy and the gown could flow freely. Gowns made of heavy fabrics will make you feel stuffy and uncomfortable on a beach.
Do you need the veil? Think again: Veils are mandatory for brides who wish to keep it traditional. But, on a windy beach, a long veil can leave you fighting a battle that's certainly not cute. Fresh flowers are a great choice instead.
Experiment with a fancy updo: A fancy updo is the best styling option for a beach wedding. It will prevent your hair from getting damaged during the ceremony. Besides, a fancy updo will give an absolutely stylish look and will match with almost everything. If you really want to wear your hair down, make sure you've got a stylist by your side who'll be there all along to give a touch up.
Avoid the heels: Wearing heels in the sand is the last thing you would want to do. Get beautiful wedges or espadrilles that match your attire. It's possible to personalize your footwear if you plan a little early.
Here are some tips for the groom to feel his absolute best.
Match the overall vibe of the wedding: The groom's attire should match the overall vibe of the beach wedding. If the entire wedding is on the beach, it's okay to stay cool and opt for casual attire. The groom and the best men can consider lightweight cotton pants. Even Bermuda shorts are cool at a beach wedding! However, if it's a more formal event, the groom may consider a suit or tuxedo. While it's generally considered that tuxedos are not right for this type of wedding, it all depends on the vibe of the wedding.
Make sure the fit is perfect: Tailor the groom's attire in such a way that it fits well so that he looks and feels cool on the wedding day. Ill-fitting attire will ruin his mood and the day.
Don't forget the weather factor: keep the weather in mind when picking the groom's attire. Most beaches are hot and humid. In that case, the groom will start melting if he wears a dark suit or uses heavy materials like tweed and wool. Light colors and lighter materials work best for a beach wedding.
Groom's attire must match the bride's style: It's crucial that the bride and the groom coordinate so that their attires match in terms of style. Imagine the bride wearing a sophisticated ball gown and the groom appearing in a linen shirt and khaki Bermuda shorts! If the bride has chosen simple wedding attire, the groom can go with the same simplicity as well.
Header photo © Focus Photography Mauritius / Unsplash