Church marriages are always special for any couple because of the spiritual aspect associated with them. Such marriages include a set of customs or rituals involving the priests, who guide the couples in their journey towards lifetime companionships. However, since church weddings centralize God and look to Him for blessings, you might be wondering whether you can marry in a church if you're not religious. I, being a Catholic Christian, had a conservative church wedding where we faithfully observed every ritual, starting from the processional to the wedding vows, nuptial blessings, holy communion, and recessional. Since I know the ins and outs of such weddings, I can help you find the answer to your question on whether you can get married in a church if you're not religious.
As a general rule, anyone can get married in a church irrespective of whether a person is religious or an atheist. Non-Christians can also marry in a church but the wedding ceremony and rituals won't be the same as it will be considered only a normal marriage and not a sacramental marriage.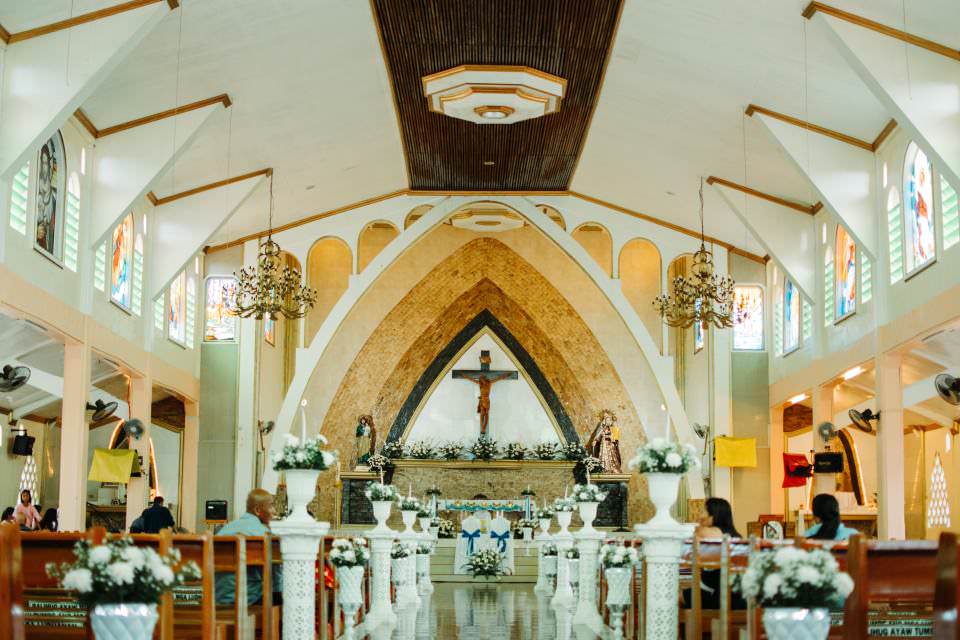 Can I get married in a church if I'm not religious?
Yes, you can get married in a church if you're not religious provided you are a Catholic Christian. According to the canon laws on weddings, catholic people can marry in their parish church with prior permission from the authority or the bishop. They need to submit a set of documents in order to organize a church wedding. In case you're not a catholic but your partner is a catholic, you can get married in your partner's parish church. However, you need to present your baptism and confirmation certificate to the church authority before the day of marriage.
Non-Christian people can also marry in a church if the other partner is a Christian. But the difference lies in the fact that such weddings do not follow the same rituals as sacramental weddings between two catholic Christian. For Catholic Christians, the wedding ceremony includes a set of rituals starting with the processional and followed by opening prayer, nuptial mass, the liturgy of the wood, rite of marriage, exchange of rites, offertory, lord's prayer, nuptial blessing, the sign of peace, holy communion, the blessing of the guests and recessional. These rituals won't take place in your marriage if you're a non-catholic or a non-Christian.
Can I get married in a church if I don't believe in God?
Well, of course, you can get married if you don't believe in God. Those who don't believe in the existence of God or any supreme power are known as atheists. If you are an atheist, you can still marry but I think the marriage ceremony shouldn't include any religious element. In Christian marriages, the main ritual that takes place in churches is the exchange of marital rites. Many atheist people see the vow as a contractual vow, which is actually based on quite practical terms.
Over the years, many atheists have found the marital rites adequate to their own needs. The vow is all about sharing equal responsibilities between couples who want to stay together through thick and thin. Christian marriages are covenants before God but I personally think that an atheist can also make the vow only if the person believes in the institution of marriage and if the person is committed to the partner.
Can anyone from any religious faith get married in church?
Yes, technically, anyone from any religious faith can get married in a church if the bishop allows them to do so. However, it will be considered as a marriage inside a church building with a non-church ritual. That's because church rituals are created for the marriages between catholic Christian people. Anyone from a different religious belief cannot get sacramentally married in a church by obliging to the Christian marriage rituals such as vows, nuptial blessings, and more where a priest is involved.
So, you can organize your marriage reception in a church if you're a non-Christian provided you've followed the marriage rituals of your own religion in your marriage ceremony. Or, you can also plan for a registry marriage or court marriage and then organize a wedding reception at the church where no rituals will take place. Otherwise, it won't be considered a legal marriage to the eyes of the church and your religious authorities.
What are the requirements for a church wedding?
Catholic church weddings require you to submit some important documents before the wedding day. You may need to submit these papers one month prior to your wedding. Here is a list of such documents that you need to prepare:
Baptism and Confirmation Certificate
Marriage License Application Form
Canonical Interview
Pre-Marriage Seminar Attendance Certificate
Marriage Permit
Church Marriage Banns
New Birth Certificate
Certificate of No Marriage (CENOMAR)
Principal Sponsors Names and Addresses
Confession
Apart from all these documents, you also need to embrace a set of principles that we've mentioned below:
You need to mention that you are marrying on your own accord.
You need to confirm that you're not marrying out of external pressure.
You and your partner should show faith in each other.
Hence, you need to confirm that you will remain together all life long.
You and your partner should confirm that you'll have children after marriage.
Related Questions:
How can I marry my partner without religion?
Here are some good options for you if you want to marry without religion:
Civil wedding: A court or civil wedding is the most secular way to marry without religion. Such marriages are performed by a Justice of the Peace, who is basically a deputy assigned for this task. For a civil marriage, you need a license from the deputy and a couple of witnesses, who can be from any of your sides.
Secular wedding ceremony: You can opt for courthouse vows that don't include ceremonies and rituals of a conventional church marriage. You can first sign the court paper for the sanction of your marriage and then make your own rituals to commemorate the most special day in your life.
Church secular wedding: Yes, you can do a secular wedding at the church if you can take prior permission from the bishop. Though the wedding will take place in the church, you won't have to follow the traditional church wedding rituals. However, you may have to negotiate between your own belief and the principles of the church on such a wedding.
Humanist wedding: Fortunately, there are weddings that do not involve the doctrine of religion at all and these are usually known as humanist weddings. In these weddings, you can consult a humanist to write your wedding vows that will centralize love and commitment instead of God or religion. You can choose your wedding venue as per your choice if you opt for a humanist wedding.
Does anyone need a registrar at a church wedding?
Yes, everyone needs a registrar to have a church wedding, which is usually arranged by the church authority. The marriage can only take place when you name the venue on your marriage notice that you need to submit at the local register office. The venue you will mention can either have an authorized person who will register your marriage or you need to arrange for a registrar from outside. On your wedding day, the registrar will arrive at the venue to legally sanction your marriage.
In contrast, if you opt for a secular wedding at a church or any other venue, you have a choice between a registrar or a celebrant. Usually, the bookings at wedding venues come directly from the registry office and they may not give you this choice always. Hence, to make a choice, you need to inform your venue or the authority that you want a celebrant instead of a registrar. The main difference between these roles is that a registrar is legally appointed to sanction legally binding ceremonies whereas a celebrant is self-employed, who can sanction non-legally binding ceremonies. However, it will only be possible if you don't opt for a traditional church wedding.
Header photo by Karl Fredrickson / Unsplash