Weddings are wonderful experiences that change our lives for the better. Several tiny details have to come together at the same time to make a wedding a memorable experience. Amidst all these is a ton of questions that need to be resolved one by one. One such question is whether married women can be bridesmaids.
Can married women be bridesmaids? Yes, they can! While traditionally bridesmaids were chosen from unwed young women in the past, it is no longer the case today. If you have trouble finding bridesmaids who are not yet married, feel free to choose one who already has a husband.
To explore further into this question, we need to dive a little bit into its history. First, let's take a glimpse into western weddings and their traditions. In the past, almost all western weddings had unwed, young women (of marriageable age) as bridesmaids with very few exceptions. When it came to the maid of honor, married women were also chosen but the title had to be changed to 'matron of honor' from 'maid of honor'.
What are some of the implications of choosing a married woman as a bridesmaid in the west?
There are none. A married woman chosen as a bridesmaid will still be referred to as the "bridesmaid" in all the different programs and literature. The word "bridesmaid" may not be preferred by some in which case the title changes to "bridal attendants". The choice is completely up to the wedding couple.
Today, bridesmaids are chosen to not only provide emotional support but also to participate in the joy of the wedding as opposed to having any specific purposes. They are also given the responsibility of taking care of the bride's needs, whether it was choosing her dress or hosting bachelorette parties and bridal showers. Age and marital status are not relevant to the current role of bridesmaids and therefore doesn't have to factor in at all when it comes to choosing bridal attendants.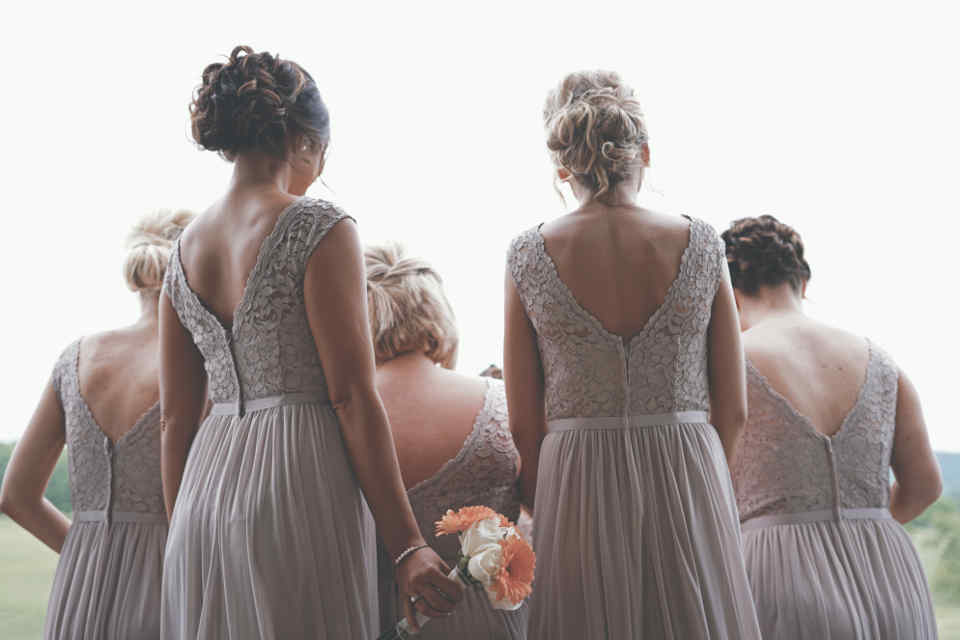 At the same time, one factor you need to take into account is whether a married woman would prefer to be a bridesmaid or wish to simply attend the wedding with her partner. In some cases, a married couple can also be chosen as a bridesmaid and groomsmen for the wedding which might be fine for both. If only one person out of a couple is chosen to help with the wedding, then you have to ask them if they would be willing to spend so much time apart from their significant other. Being a bridesmaid is no walk in the park after all and takes up a good amount of time and effort.
Are married women chosen to be bridesmaids in the east?
In ancient China, rich families had a tradition of providing single maids as a form of dowry and were required to serve the mistress in the family. If the bride was unable to bear children, the maids had the responsibility to procreate with the groom. Hence, during those times, only unwed young women were chosen to be bridesmaids. This archaic rule of course doesn't exist in modern China since many couples openly have married women as their bridesmaid.
In other countries like India, the concept of bridesmaids is relatively new and hence women of all ages can be chosen as for the role of bridesmaids. The same goes for Japan too as plenty of weddings have married couples as bridal or groom attendants.
A brief history of bridesmaids across the world
The concept of bridesmaids most likely came into being due to a variety of different factors such as social and economic status, size of the family, religion and more. One of the oldest tales that touch the concept of bridesmaids goes back to the story of Jacob in the bible, where his two wives came with their maids who were regarded to be the first bridesmaids. At that time though, their role was more than that of a handmaiden than anything else.
As per historical records, both the bride and the bridesmaids used to wear the same dress and covered their faces with a veil to ward off evil spirits and jealous suitors. In early feudal China, brides were kidnapped often during their weddings by rival clans or hoodlums. The bridesmaids were given the responsibility to protect the bride. By dressing up in a similar fashion, their primary role was to confuse the kidnappers and allow the bride to proceed with the wedding. Once the marriage was made to be legally bounding, the bride came to be protected by the law. Hence the role of bridesmaids was changed to be more of a symbolic significance than anything else.
Related Questions
Who were chosen for being bridesmaids in early western culture?
In certain cultures such as Norway or Victorian Britain, small girls were chosen to be bridesmaids rather than young women. Their main role was to carry flowers during the procession and pose with the wedding couple. Today, however, small girls are only given the role of the flower girl in most modern western countries.
Should we refer to married bridesmaid as bridesmatron?
Whether the chosen bridesmaids are married or unmarried, there is no need to change the way you address them. You can either address them as bridesmaids in your wedding programs or simply refer to them as bridal attendants. Either way, the title doesn't have to be changed based on their marital status.
Are there married bridesmaids in catholic and jewish weddings?
Yes, there are. There will, of course, be orthodox families who stick to old traditions but the majority of people today see no issue in having a married woman as a bridesmaid. There is no right or wrong when it comes to choosing bridesmaids or groomsmen. It is completely up to the individual choices of the bride, groom and their family when it comes to all aspects of the wedding.
Header Photo © Jamie Coupaud / Unsplash