When it comes to engagement rings, it's pretty clear who has to pay for it as it's the responsibility of the one who proposes. It's simple and easy to understand why. However, wedding rings are a whole different matter. So if you have ever wondered, who pays for the wedding rings?
Traditionally, the bride or her family buys the groom's wedding ring, while the groom or his family buys the bride's wedding ring.
However, this is only when you want to strictly adhere to tradition. If you prefer to have a non-traditional wedding, all bets are off. This doesn't mean that you can do whatever though as there is a right way to go about it and several wrong ways. Let's take a deep dive into the subject to find out.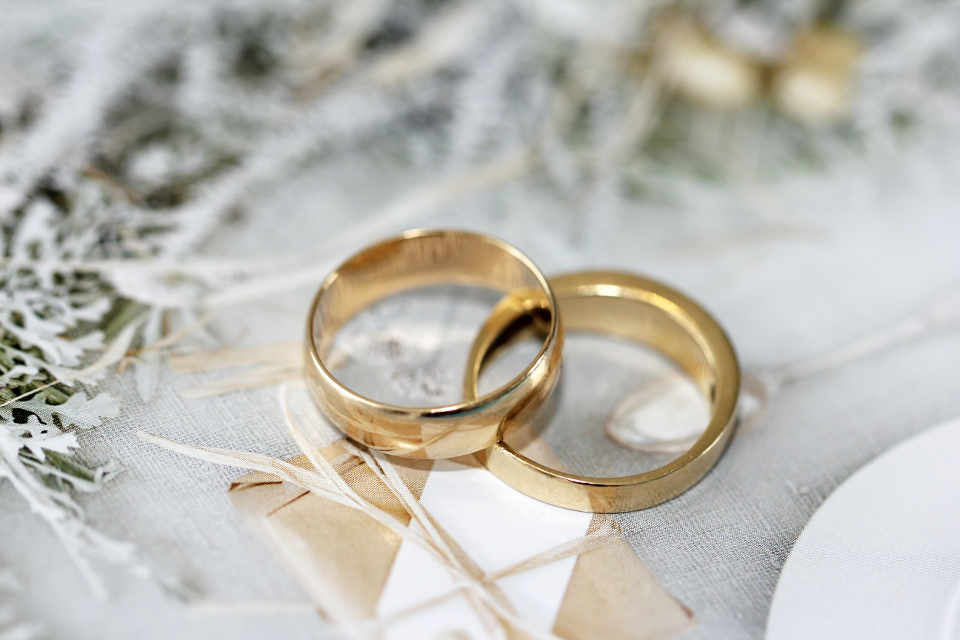 Who pays for the wedding rings?
When it comes to wedding rings, we all know that both the bride and the groom need to exchange rings as part of the ceremony. It is a symbol of their union and one that most will hope to wear for the rest of their lives. Deciding who should buy whose ring can be an easy task based on whether you want to follow tradition or not. As per tradition, the bride is responsible for buying the groom's wedding ring. Do note that this rule was created at a time when only the concept of binary weddings existed.
In today's world, more and more couples are opting out of traditional rules if it doesn't make sense to them. So if you aren't that keen on having a traditional wedding, you can opt to share the cost of the wedding rings with your fiancé. However, this is one decision that must be made as early as possible as it makes sense only before planning the entire budget for the wedding. Do note that this doesn't mean that each individual must pay half the cost of the ring. As long as it is mutually agreed upon, the amount each needs to pay will depend on one couple to another.
Another nontraditional way is for one individual to take up the cost of the wedding rings by themselves and then their partner can pitch in for a different expense. With a wedding, there is always the potential for expenditure and upon discussion, the couple can decide on who pays for what. Another way would be to ask the parents to pay for the rings if you are not in a financially stable position now. The possibilities are endless if you aren't very keen on following traditional wedding etiquette.
Who pays for the groom's wedding band?
Typically the bride pays for the groom's wedding band. This is of course only if you plan to have a traditional wedding. Based on the financial situation of you and your partner as well as both your families, you do have the freedom to change it. Ultimately the wedding is about both you and your partner and falling into debt for each might not be the best way to start your married life.
Who pays for the bride's wedding band?
As per tradition, the groom is responsible for paying for the bride's wedding band. As mentioned above, you can go the non-traditional route and decide differently too. Some couples have their parents pay for each other's wedding rings too. In some cases, wedding rings are passed on from one generation to another while in others, close relatives choose to help out and buy the ring.
What to consider when deciding who pays for the wedding rings?
There are two main things to consider when deciding who needs to pitch in for the wedding rings.
Financial status – The most important factor is the financial status of both individuals. If both of you are well off and can afford the cost, you can simply discuss and agree to pay for each other's rings. If either one of you is not in a financial position to do so, then the partner who can afford it can take up the cost of both rings. One can also ask their parents to pitch in and take the majority of the cost. No matter what, the most important thing to consider here is that you should discuss it with your partner well before the wedding budget is set. Otherwise, it might be very difficult to change any existing plans.
Type and cost of the ring – Wedding rings are usually very expensive and are sure to set you back substantially when it comes to your finances. Fortunately, it is a one-time cost but sometimes it can put you in a very difficult financial situation afterward. There will still be plenty of other places where you need to spend money for your wedding after all. By discussing and setting expectations properly well in advance, both of you can make the decision that will have the least financial strain while not fully compromising on the rings.
How to plan properly when it comes to buying wedding rings?
Here are a few ways to plan when it comes to deciding who pays for the wedding bands.
Individual savings – The first thing you and your partner need to do is sort out and analyze your financial situation. This doesn't mean that you should just add up both your savings and then splurge on each other's rings of course. The wiser and more financially responsible thing to do is set aside at least three month's living expenses aside and your emergency funds to figure out how much money will be left. Based on that amount, both of you will be able to make an informed decision on the wedding ring budget as well as the type of ring to go for.
Start saving early – Start saving for the wedding ring very early. Ideally, you should start saving for the ring the moment you feel that you want to marry your partner and the earlier it is, the better. Every month, put aside as much as you can in your savings after deducting all essential expenses. Do not touch that money until the day when you need to buy a wedding ring.
Discuss with your family – Never think you need to bear the expenses all on your own. Feel free to ask your parents to pitch in if required. While there is no rule that you need to pay them back, it is of course the right thing to do. You can pay them back either in installments or the full amount at a later period. Doing it in installments will help you out a lot if you aren't in the best financial situation at the time of the wedding.
Related Questions
Who buys wedding rings in case of non-traditional couples?
A lot has changed for us in the last few decades and it is only proper that we evolve from the rigid customs of the past. Most of our traditions were made in and for a binary society which we don't live in today. A lot of modern weddings these days are gender-neutral or normative and so the rules can be bent to accommodate the changing times. Non-binary couples can choose to go for the option that best suits them when it comes to deciding who buys whose wedding bands. You can also choose to shop for the rings together. You will lose out on the surprise element though but if it's a price you are willing to pay, full power to you.
How much does a bride's ring cost?
It depends vastly based on the type of ring being bought. On the low end, the cost of buying a bride's wedding ring will be around $600 and on the high end it can go up to $6000. Carat weight plays a very important role in determining the price of the ring and so you can opt for more affordable options by going for filigree or openwork rings as they use less precious metals. Instead of gold, you can also opt to go for a silver band. If you are dead set on getting a diamond ring but cannot afford the cost, you can look at the Nexus Diamond ones as they look extremely elegant while compromising on the price.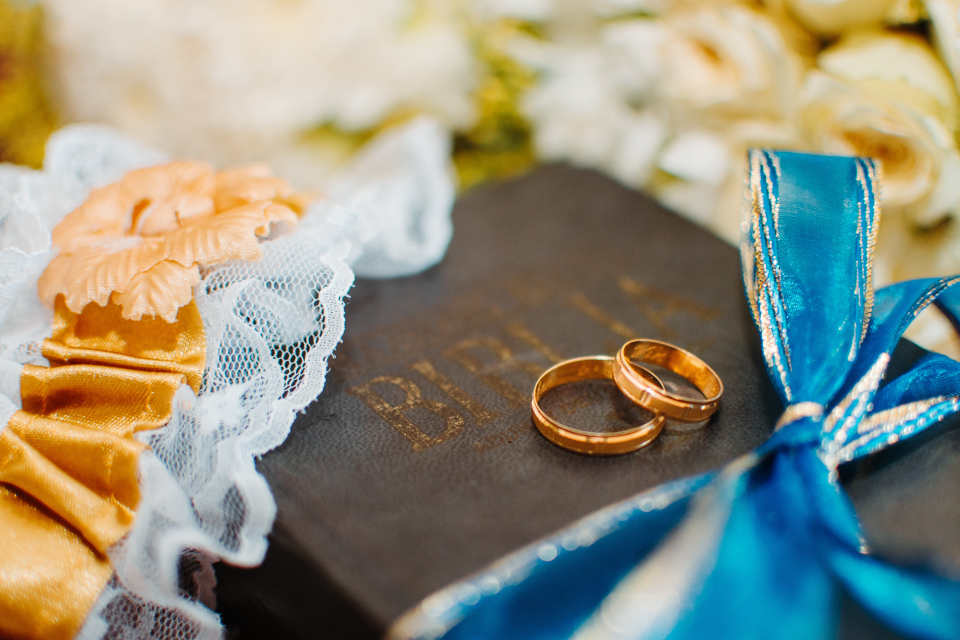 How much does a groom's ring cost?
The average cost of a groom's wedding ring is substantially lower than a ring for the bride. At $468, it might come off as a shock to realize how much the difference is. A groom's wedding ring usually doesn't use the same materials used in a bride's ring as most grooms opt for tungsten as the main metal. Some do go for more expensive ones of course such as a platinum one but it will still be a lot lower than a bride's wedding ring. Understanding the difference between both rings will help you a lot when it comes to deciding who needs to pay for the wedding ring.
Header photo © Samantha Gades / Unsplash