A wedding is a magical and beautiful experience for everyone involved. It is an uplifting and love-filled moment where two individuals, irrespective of sex, gender or ethnicity officially become spouses until the end of their lifetime. However, it can also be one of the most stressful times in the life of the groom and the bride. So many decisions have to be made and one looming question that a lot of brides have is regarding the number of bridesmaids.
Is it ok to only have two bridesmaids? Yes! That it's completely up to you. You might hear varying opinions but at the end of the day, your wedding is your moment and you can decide how many bridesmaids you want by your side.
Let's dive a little bit deeper into the subject of bridesmaids and explore all the options that are at your disposal when it comes to deciding how many you want for your wedding.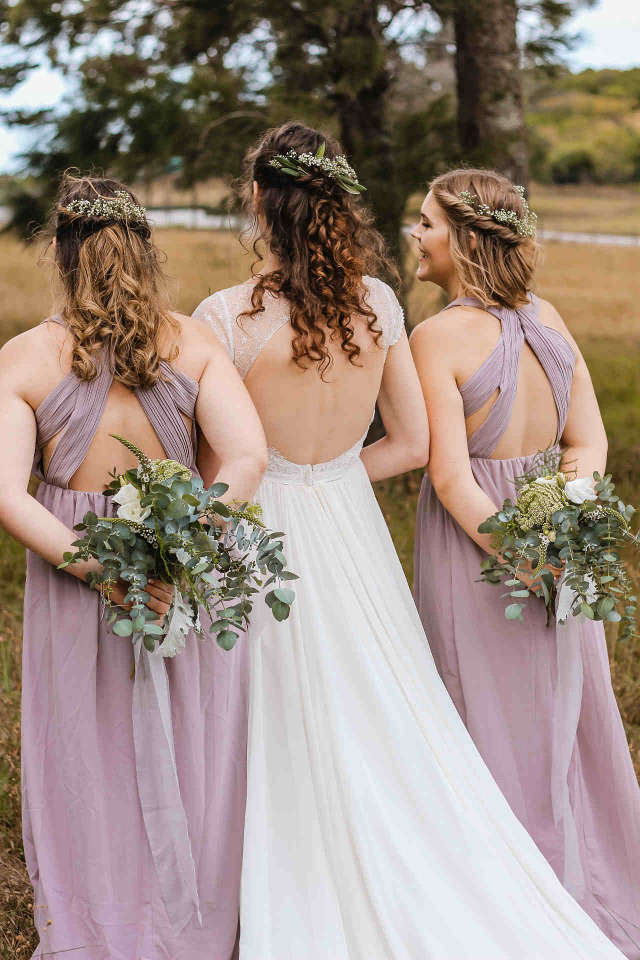 Is there a right number of bridesmaids to have as per tradition?
Traditionally, the number of bridesmaids depends on two main factors and they are the size of the family and the size of the wedding. If you have 4 sisters in your family, then feel free to have 4 bridesmaids. After all, you want people you love to be right at your side in what could be the most magical and beautiful day of your life.
The other one is the size of the wedding. A wedding with more than 200 guests may have up 10 bridesmaids. Usually the bigger the wedding, the more number of bridesmaids the bride has. However, this certainly isn't a rule nor will it be considered to be any sort of tradition if you choose to have only 2 bridesmaids.
Wedding size and number of attendants
Generally, the rule of thumb is that big weddings have more bridesmaids whereas smaller ones have few. In the latter, you could have anywhere between two bridesmaids to six bridesmaids. Large weddings may have anywhere between eight to twelve or fourteen bridesmaids. The ratio used by most wedding planners is to have a pair of attendants for every fifty guests. This is done to balance out the number of guests and wedding party members.
While this is a good rule to follow, there is no need to do so if you don't want to. This ratio was made mainly for wedding planners to organize and manage the wedding in a more convenient way. If you feel like you want only two bridesmaids, go for it and ignore any opinions that might try to make you feel otherwise.
The wedding budget and number of bridesmaids
Your wedding budget is one thing you need to factor in when you decide how many bridesmaids you want. Traditionally, the bride is responsible for the cost of all bouquets and bridesmaids gifts. So if you have over 15 bridesmaids, then you have to be prepared to take a significant hit on your budget. When you have only two bridesmaids, you don't have to worry about it at all as there won't be any significant financial impact.
Choosing the bridesmaids
Choosing the Bridesmaids can be a difficult task sometimes as there a lot of expectations put on you during this time. You might face family pressure to choose a certain number of bridesmaids or specific people whom you may not know.
Even if you feel stressed out, the best thing you can do is to take that decision on your own rather than depending on your family and friends. This is because by discussing it with other people, you will invariably be trapped into making a decision you don't want and once it is made, you will risk offending them if you ever backtrack on it.
Don't worry too much about the expectations placed on you. Instead, close your eyes and ask yourself who you want to share your special day with. Whoever comes to your mind, pick them. Whether it is a single person, two or a dozen, it's completely up to you.
Related Questions
Should I have the same number of attendants as my partner?
This is a very common question that a lot of brides have. In a lot of weddings, you might have seen that the number of bridesmaids is the same as that of attendants on the groom's side. One of the biggest reasons for this is just aesthetics as it visually looks more complete when you have the same number of people near both the bride and the groom.
Should I have more bridesmaids just to have an even number of attendants on both sides?
You can but you don't have to. A wedding should never be turned into a purely aesthetic event where everything is perfect just for the appeasement of everyone else. What matters the most about a wedding is that you have people who love you right by your side. Everything else is immaterial and irrelevant because no one remembers the decorations, the food or the visual order after 20 years. But the moments and experiences you share will live on in the memories of others till the end of their lives.
Do I need to have bridesmaids at all?
If you don't feel that you are close enough to anyone to ask them to be your bridesmaid, it's ok to not have one. Some brides don't choose any bridesmaids because either they don't want a wedding party or are in a situation where their best friends are far away and unable to make it to the wedding. It's your wedding at the end of the day and you need to make decisions that you are comfortable with. Some might get offended but appeasing them is not worth being uncomfortable on your special day.
Weddings can get stressful but you can avoid it by just following your gut and making decisions that you are comfortable with. The perfect wedding is not one where everything looks good or when everything is exactly the way you want it to be. It's when you are wed to the one you love in front of the people who love you.
Header Photo © Wedding Photography / Unsplash