The cocktail hour is easily one of the most popular events in a wedding apart from the ceremony. It's not mandatory to have one but almost every guest looks forward to enjoying it which makes it an integral part of a wedding.
What exactly is a cocktail hour during a wedding? It is a time that often falls between the wedding ceremony and dinner where guests are treated to delicious snacks and cocktails. It gives everyone a chance to relax and socialize with one another making it very popular among guests. It is also the perfect time for the bride and groom to make a wedding photo session.
There are many ways in which you can throw a great cocktail hour for your guests. To do that, you need to understand the various aspects of cocktail hour and its main purpose. Let's dive a little deeper and find out.
What is cocktail hour during a wedding?
A cocktail hour at a wedding serves a variety of purposes. Most of them revolve around socializing. Nonetheless, it's important to understand them first if you want to throw a memorable one at your wedding. Some of the main reasons for having a cocktail hour as follows.
Socializing – The main purpose of the cocktail hour is to allow guests to socialize with one another. This allows both the bride's family and friends to befriend the groom's family and friends in a comfortable and laid back environment. The cocktails also play a very important role as it allows people to loosen up and shed some of that wedding stress.
Personalization – It's also a perfect time to have a theme going on and make the wedding a memorable one in the eyes of the guests. One can have specific cuisines and cocktails to match the same theme or do a fusion of both the bride's and the groom's native places and make the entire event very interesting. You can even create a new cocktail and name it to make it extra special.
Relaxation – Weddings are always stressful, irrespective of whether they are big or small. This is especially the case for the bride, groom and close family members. At the cocktail hour, everyone can let their hair down and relax while sipping their favorite drinks and munching on delicious snacks.
Celebration – The cocktail hour is the official beginning of the celebration phase at a wedding. Once it starts, guests can mingle with each other and get ready to celebrate the wedding with family and friends. Therefore, it sets the mood for what follows and makes a lot of difference between having a normal wedding and an extraordinary one.
Flexibility – The beautiful thing about a cocktail hour is that you don't need to go big to make it successful. The whole point of it is to allow people to relax and socialize with others. You can serve popular cocktails and make creative choices when it comes to food to make it not only affordable but memorable too. A little bit of creativity goes a long way into making your wedding an amazing experience for everyone involved.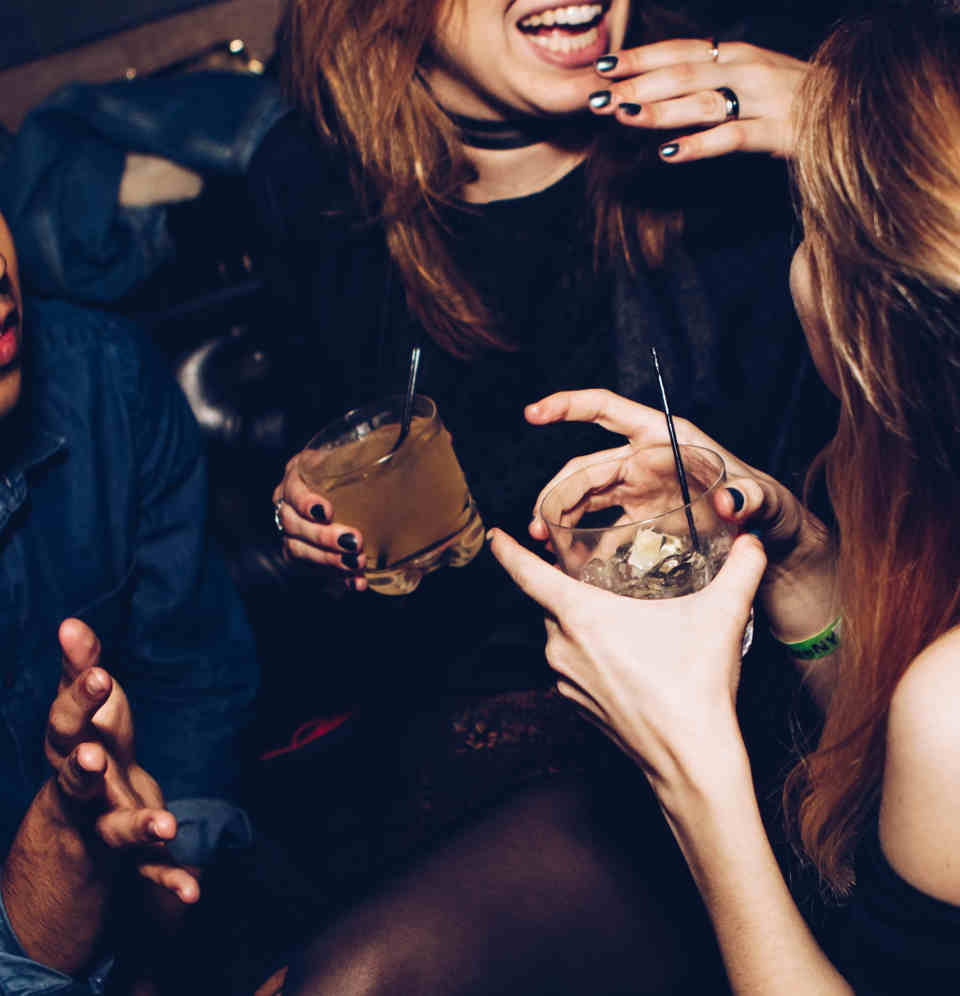 How to throw a great cocktail hour?
There are a few things you can do to throw an amazing cocktail hour. They are as follows:
Location – Whether you have an indoor venue, an outdoor one, or both, figuring out the ideal location is half the battle. The designated space needs to be big enough because you don't want your guests to be cramped up together and uncomfortable. So if you have balconies, patios, or pools in your venue, you can use it for the cocktail hour and have it open throughout in case guests want to catch a bit of fresh air.
Seating – Putting only low seat tables might not be an affordable option as you would need a lot of them to accommodate your guests. This would require you to book a large space which will always be expensive. A creative way to stay within your budget will be to have both sitting and standing tables in your cocktail hour. You can even layout a beautiful spread and have some sit on the floor if you have a garden or lawn nearby.
Decorations – Decorations can cost a lot of money if you don't figure out creative solutions. Never aim for quantity when it comes to decorations. Instead of having many decorations, plan for a few good quality ones and place them in such a way that it not only brings the entire space together but also spruces up the place.
Music – The cocktail hour is for socializing, so you have to be careful when it comes to playing music. If it's too loud, people won't be able to talk to one another easily whereas if it is too low, it might lead to awkward silences in between. The type of music is also important. Ideally, you would want to play good music that sort of fills the environment as background noise where it's loud enough to be audible but not too loud that it dominates over conversations.
Non Alcoholic Drinks – Not everyone will want to have alcoholic beverages. For them, as well as kids, you need to also have nonalcoholic drinks served. You can have them based on the weather to keep everyone hydrated and satisfied. So if it's summer, you can have refreshing drinks with ice in them and if it's winter, you can have something like hot apple cider.
Related Questions
Can I set up games in the cocktail hour?
Yes, you can! Don't make the entire hour revolve around playing games but providing the option to play a few casual games is always a good thing. Having games will also help kids to have fun while socializing with others and allow grownups to let their hair down and have fun. Games like bocce ball and beanbag toss are some of the games you can have during your cocktail hour but feel free to come up with amazing, creative ideas.
How long does the cocktail hour last?
Despite its name, a cocktail hour can go for more than 60 minutes but not a lot more. This happens mostly when the couple needs to take a few extra photos while the guests are occupied with one another. Usually, the maximum a cocktail hour goes to is about 90 minutes. This is because it is usually placed between the ceremony and dinner so there is only a limited amount of time during which people can socialize and get to know each other.
Can I skip or have the cocktail hour before the ceremony?
Yes, you can, to both questions. A cocktail hour is not a part of wedding tradition nor is it an integral part of it. It certainly does have many merits as far as guest satisfaction is concerned but if you don't have enough time, you can skip it. If you don't have enough time between the ceremony and the dinner but also don't want to skip it, you can keep it before the ceremony. However, do note that you may have problems getting your guests to their seats for the ceremony later. So in such scenarios, always close the bar and ask the staff to point the guests to their seats at least a half-hour before the ceremony.
Header Photo © Matthieu Joannon / Unsplash