A tuxedo is "the" go-to choice when it comes to formal gatherings and weddings but it is a ridiculously expensive choice for something you might wear only once or twice. If the intention is to look suave and sophisticated, it's going to put a big hole in your wallet. Luckily, you can always rent a tuxedo online to save some money and keep the budget in control.
Where can you rent a tuxedo? The best places to rent a tuxedo are online services like JCPenny, The Black Tux, Men's Wearhouse, JoS. A. Bank or Menguin. These online services have many years of experience in renting tuxedos.
To help you find the best rental services for your needs, here are some of the popular ones. And if you don't know whether you should rent or buy a tux, check this article: Should I Rent or Buy a Suit or Tuxedo for a Wedding?
10 best places to rent a tuxedo online
JCPenny is one of the best places to go if you want to rent a traditional tuxedo at an extremely affordable rate. Some of their tuxedos are so attractively priced that you may even begin to question the quality of the fabric itself. But rest assured as all of their products come with exceptional quality and will be perfect for any formal events you might have to go to. Moreover, they also offer a wide selection of styles and colors to meet any specific needs you may have. They even offer a stellar online measurement guide to find the tux that will best fit you. Once you have ordered your tuxedo, you can expect it to get delivered within a few days to your doorstep, ready to be worn.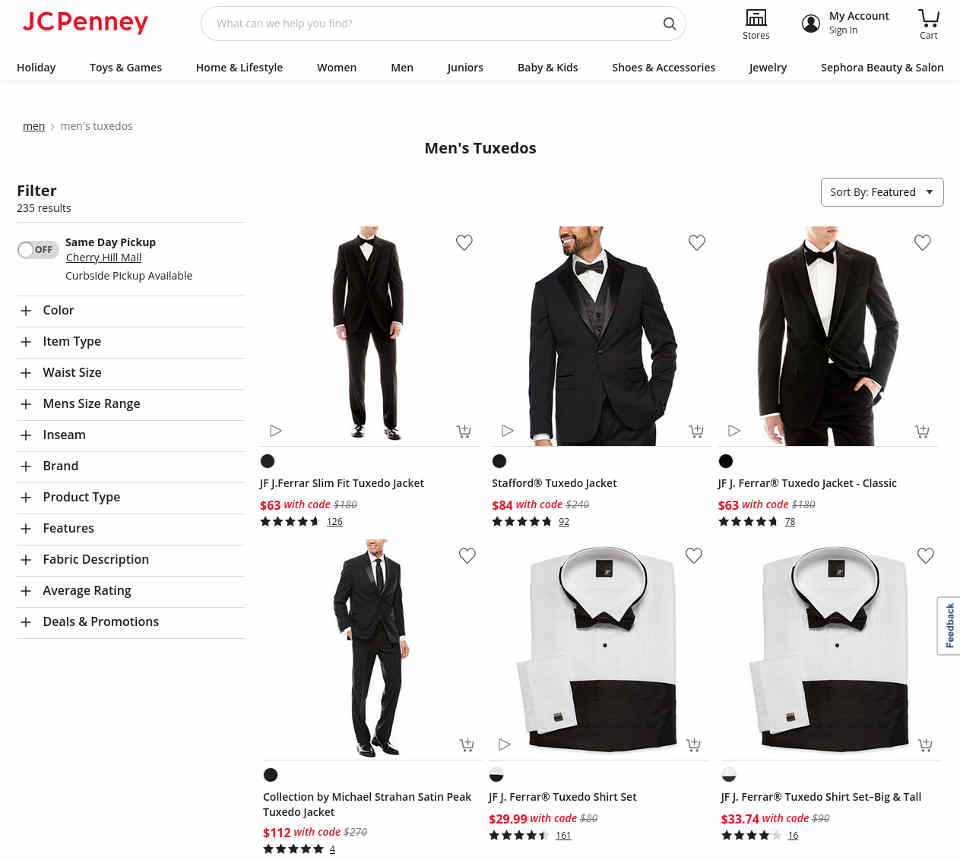 With a name like Black Tux, you might get an idea about the product they specialize in. However, contrary to their name, they offer tuxedos in other colors as well. What sets them apart from the other brands is that they are very dedicated to providing great, fashionable and modern tuxedos and offer products that only fit that criteria. Another unique feature they offer is that you can get it ordered well in advance and try it out to see if any changes are required. If you want a different size or fitting, you can return it and order a different one. You only have two days to make this decision, however, so don't keep it with you for more than two days if you want to change it.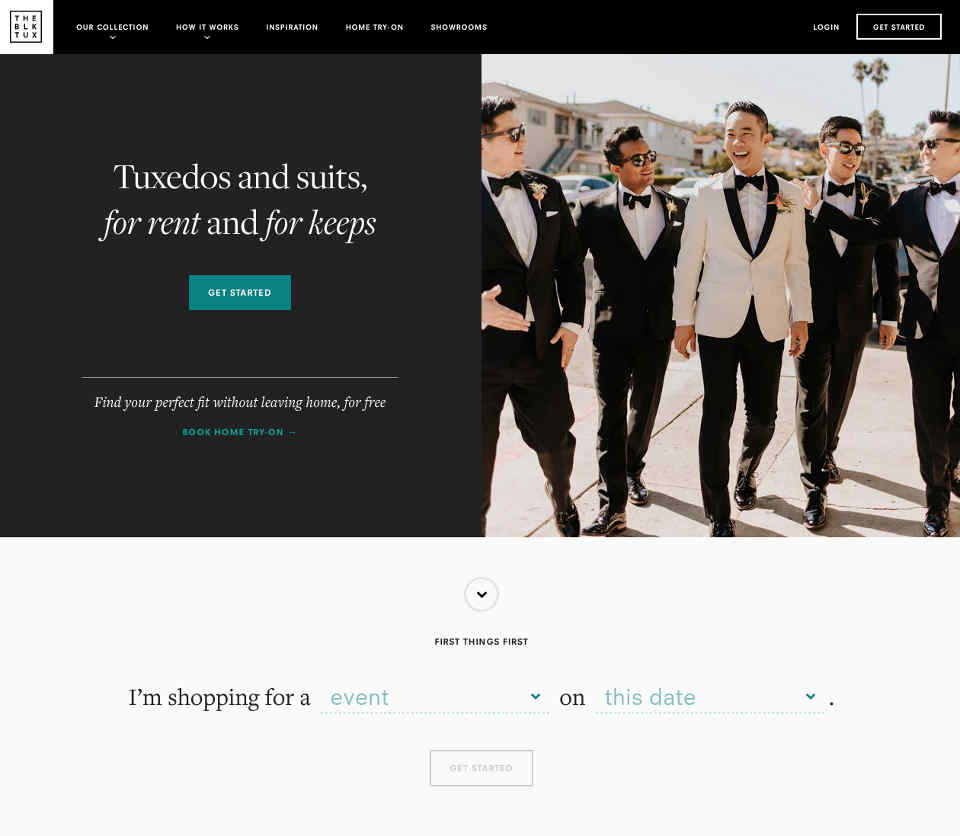 What's great about this brand? First, they offer tuxedos for dogs. Yes, you read it right. They have tuxedos for your canine friend as well. But what about humans? Well, they offer a solid selection of 20 classic options and a very convenient add-on rental feature that will surely help you to get any specific look you want. Other brands bundle some accessories with their tuxedos but here everything apart from the tuxedo is optional which allows you to customize the look any way you want. Their measurement guide is quite basic but they are also very honest about it and encourage you to find a tailor in your locality through their online search tool. If you want to look different and match different accessories, this might be the place for you.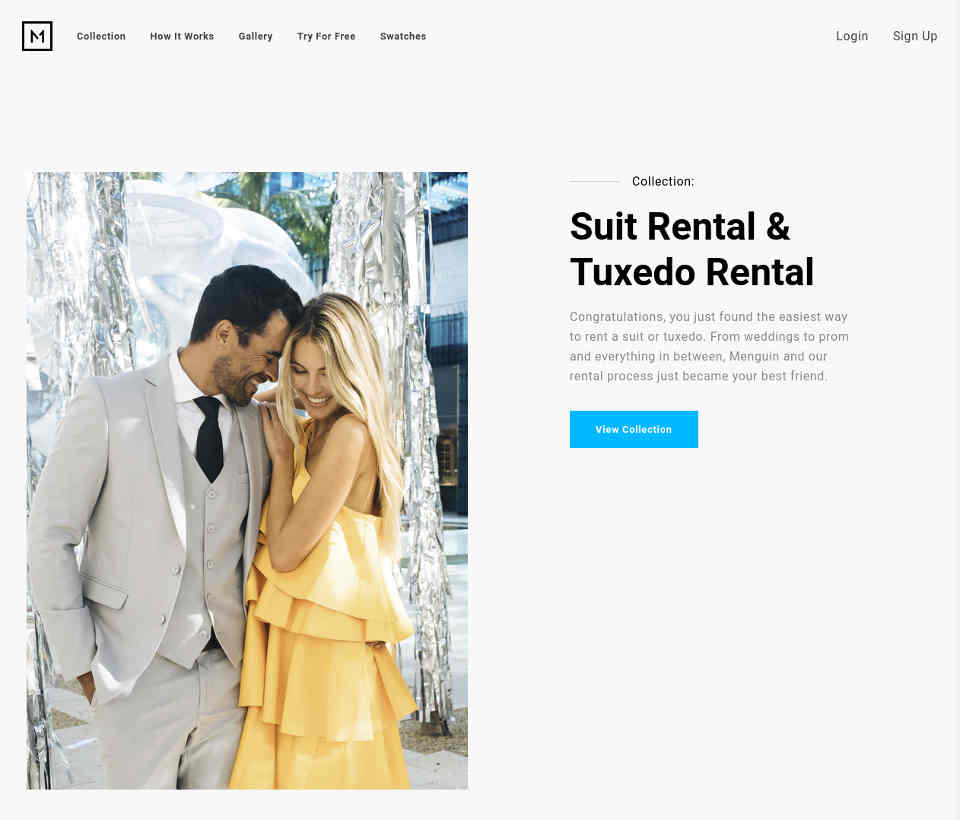 If it is the value you are looking for, then the Men's Wearhouse is the place to go to. In terms of services, very few brands can match the same level of quality as them. This is mainly because they offer a fully customizable tuxedo package where you can choose the accessories you want at very affordable rates. Some of them are so affordable that they even border on being negligible when it comes to your wallet. You can get your measurement either online or visit the store to do it. The latter, however, would be the wiser choice. You also get popular brands such as Calvin Klein, Joseph Abboud and Vera Wang Men here if you prefer the classic tuxedo look.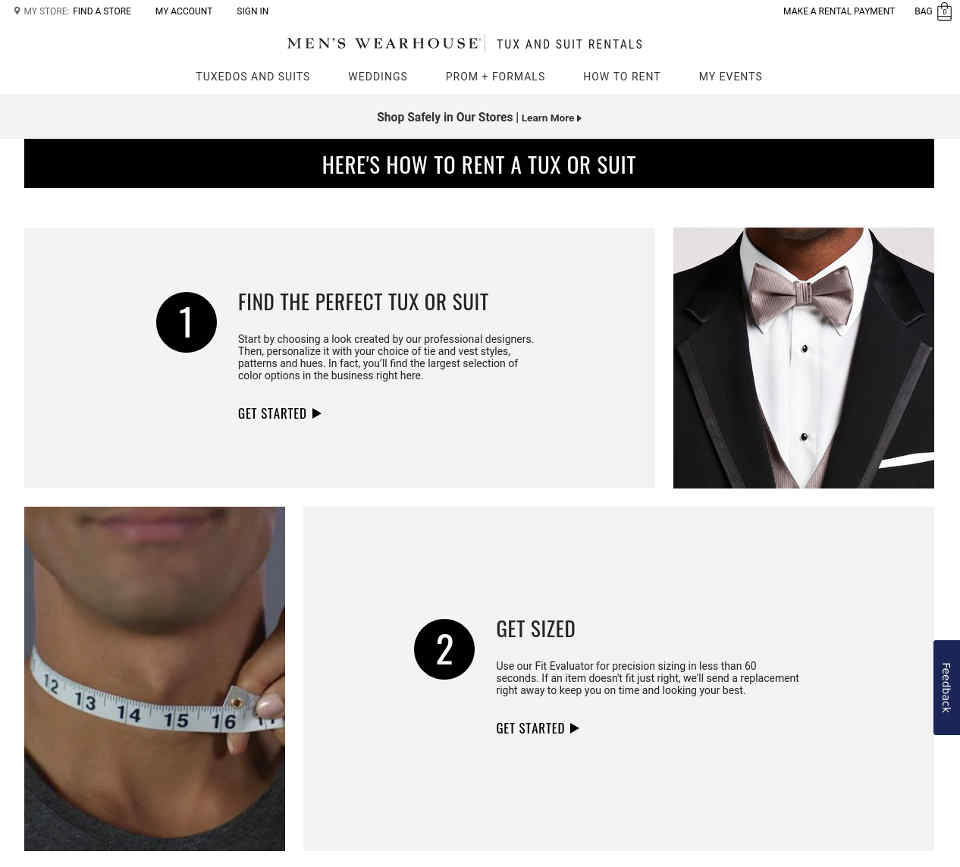 They provide a great selection of stylish tuxedos that can be worn for just about any formal event you may have. What's unique about these guys is that you can either go for the classic version or you can customize the tuxedo from scratch in any way you want. This makes it ideal for those who want to make a fashion statement and wear one that will be truly unique. They also have stores in about 450 plus locations which makes them very accessible to anyone who lives in a city. However, you will not be able to fill in your measurement online. So you will have to go to the store to get the right fitting.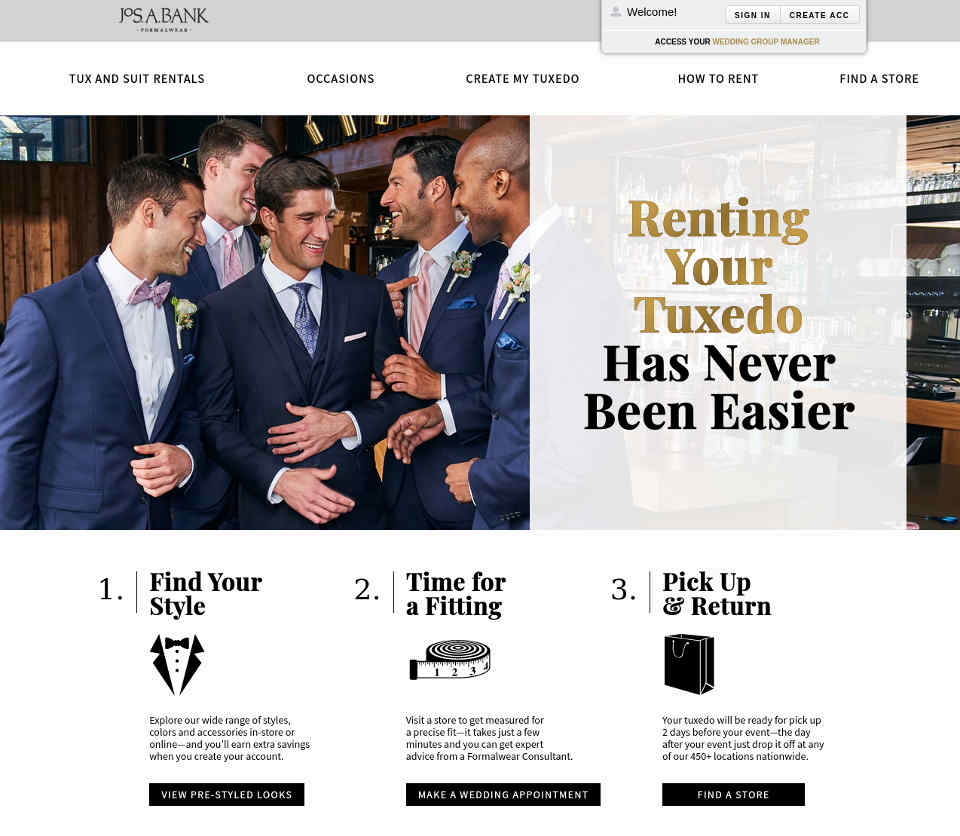 If you are not a big fan of classic tuxedos or would like to experiment with other styles, then Stitch & Tie will be right up your alley. Compared to other services, they provide some of the most diverse options when it comes to tuxedos. You can either choose from pre-set looks or you can customize accessories to get the look you want. It is important to note that they deliver their tuxedos a week before the date you give them so that you can try it on and ask for any adjustments if necessary. When it comes to fitting, they offer a comprehensive set of videos that guide you through the proper way to measure yourself.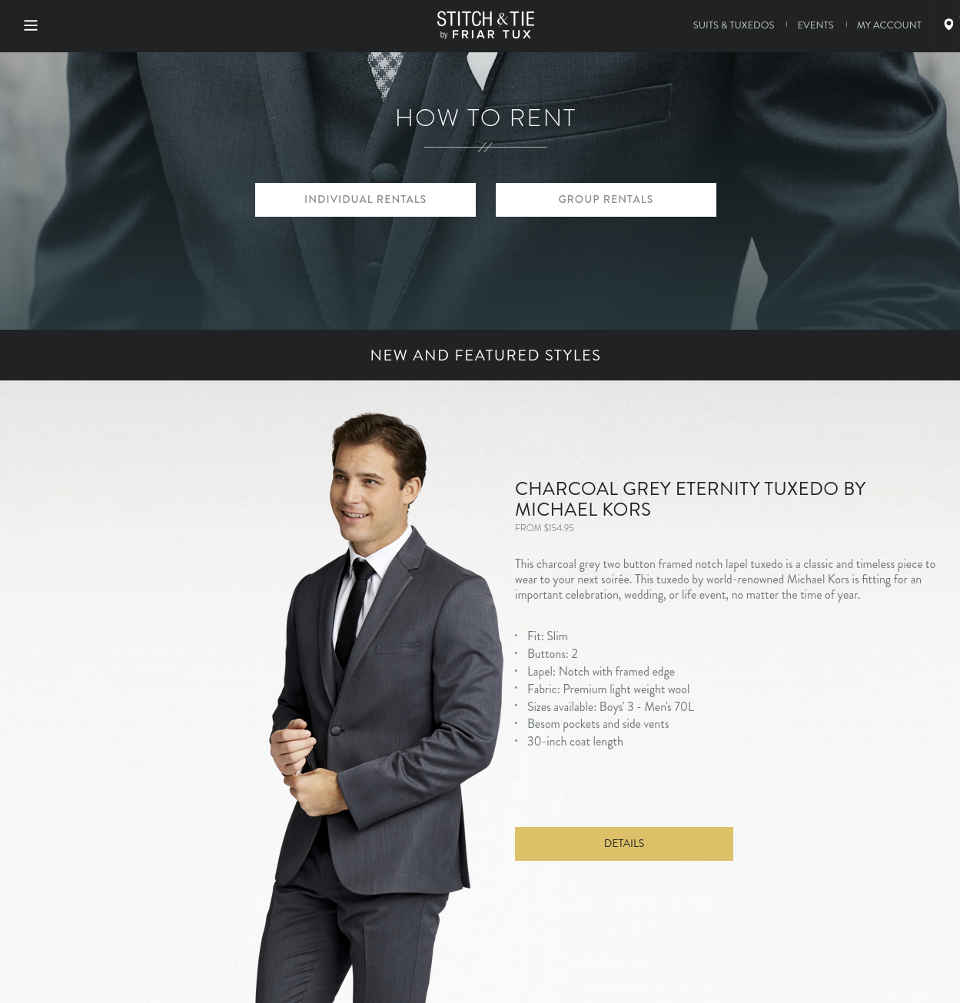 This is another great option for those who like both the classic look and a more casual one with light grey tuxedos. They offer both classic designs like Justin Alexander and more laid back ones too with different styles and colors. You also have the option to customize the tux to your liking. When it comes to taking measurements, doing it from a tailor would be a wiser choice as the online option isn't comprehensive enough. Once ordered, you can expect it to be delivered well ahead of the date given to make any changes if necessary.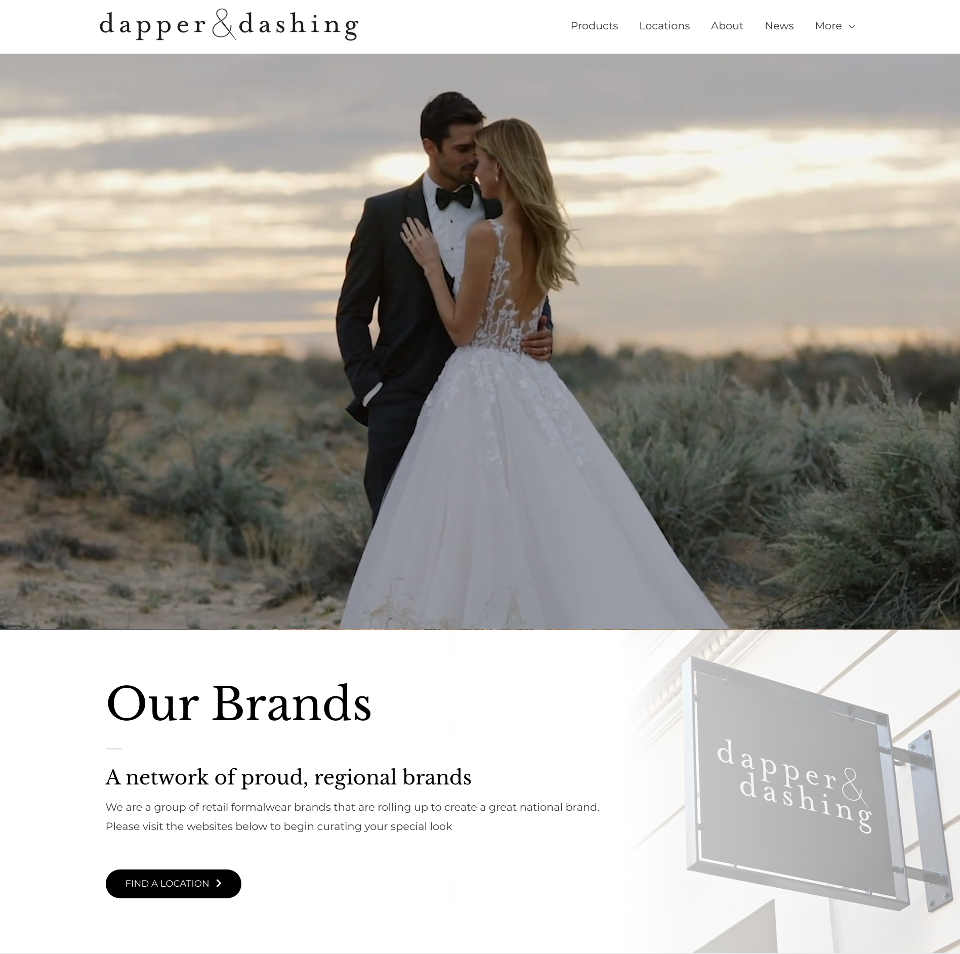 If the classic black tuxedo is your jam, then look no further than Generation Tux. No matter what style you seek, you will be able to the right black tuxedo for any occasion that might come up. One very helpful feature they provide is their style inspiration page which you can go through to check out the different styles available. They also have a good selection of suits with less-dressy add-ons to stand out from the pack. You will get the tuxedo delivered at least two weeks before the date and you can keep it with you for a maximum of three days after your wedding. They are a great choice for wedding tuxedos as they give you the option to have a two day home try-on to check if any changes are required.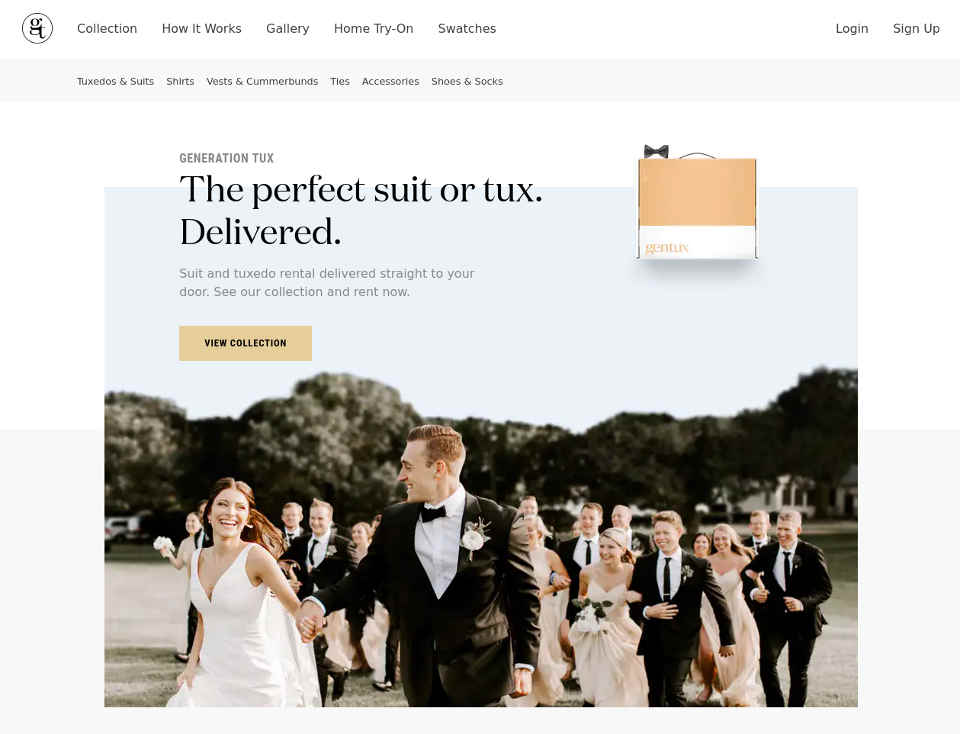 This one is the go-to place if you are a fan of velvet tuxedos or are planning to have a winter wedding. They also offer classic and laid back styles as well, ensuring that there is something for everyone. Whether you want to have a black, blue, red, grey or white tux, you will have no problem finding the right one for your needs. In terms of fittings, they offer a modern, slim or classic fit to help you get that perfect look. If there is any confusion on the style you want to go for, you can make use of their virtual style lesson feature where you can remotely get in touch with their stylists to get some great pointers.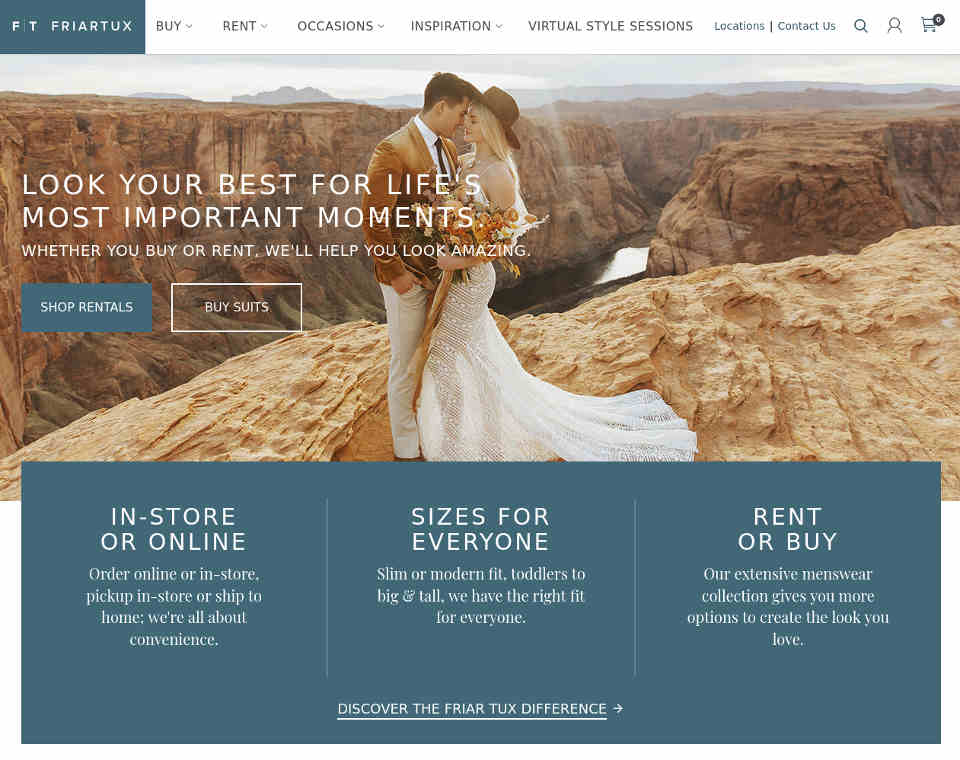 With rentals starting at only $100, this is a great place to shop in if your goal is to save money. Their packages which start at the above price point also include a formal shirt, vest and cufflinks, making it one of the best affordable tux rental services in the country. This also makes it a perfect place to shop for the groomsmen as renting multiple tuxedos can get very expensive if you aren't careful. For weddings, you will get the tuxedo 7 to 10 days before your date which is good enough. It is advisable to get your measurements done from a tailor before ordering, however, to get a more accurate fit.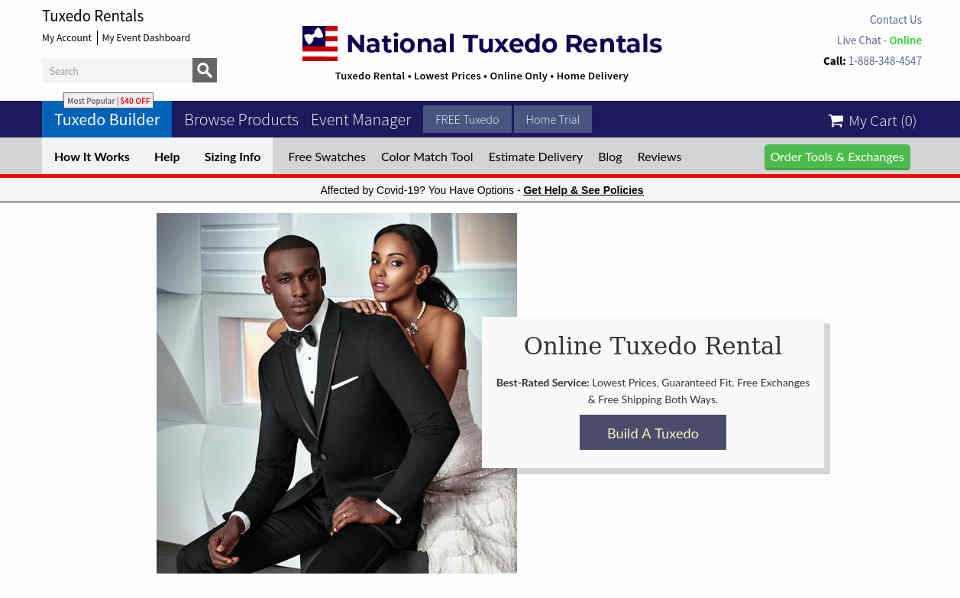 Related Questions
How can I ensure correct measurement when it comes to renting a tuxedo online?
Some websites have comprehensive measurement sections where it will guide you on how to measure and input the correct numbers to get the right fitting. However, as a general rule of thumb, it is always wiser and cost-effective to get yourself measured by a professional tailor. This way, you can communicate to the tailor, what kind of fitting you want and order your tux without any worries.
Can I return a rented tux if it doesn't fit?
Yes, you can. Almost all rental services offer either a refund or replacement if the tux you got doesn't fit properly or if you have any issues. They also send you the tux 1 to 2 weeks in advance for you to try it out in case you want to make any changes. However, it is important to note that any changes or request for replacement must be done immediately. Letting the service a day or two before the wedding may lead to you not getting the new one in time.
What is the price range for rented tuxedos?
It depends on one service to another as some start their rental tuxedo packages for as low as $100 whereas others start higher. However, the most it can go to is somewhere near the $300 range as anything above that gets very close to the ones you can outright buy. Almost all rental services also offer a good amount of customization when it comes to fabric color, lapel shape and accessories but some might price their packages differently. So always read the fine print before ordering from any place.
Header Photo © Clem Onojeghuo / Unsplash