First looks haven't always been popular. Even after weddings started being captured on film or photographs, they weren't popular but they matter a lot these days. Earlier, most people were apprehensive about it as traditionally the bride and the groom weren't meant to see each other until the ceremony. However, today, all that has changed, because in this article I'll try to write everything about first look on a wedding day.
What is a first look on a wedding day? It is a private moment when the bride and the groom decide to see and meet each other before the intended time. Very often this moment is photographed and filmed. The first look can also be called the moment when the groom sees the bride for the first time in the church.
There are many things to consider when deciding to have a first look moment at your wedding. As with everything else, there are pros and cons to it. To make a decision that you won't regret later on, you need to know everything about the first look.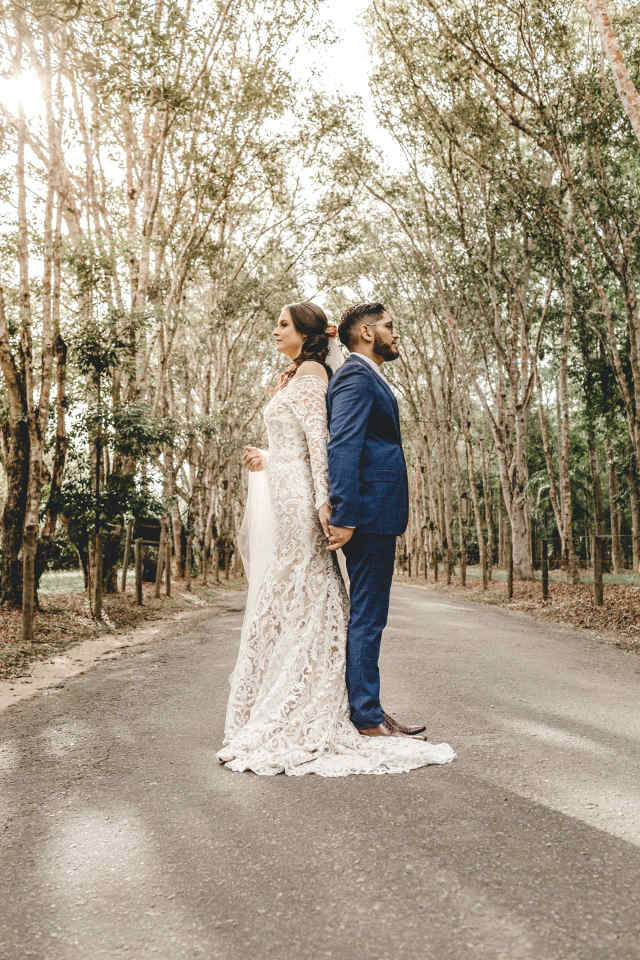 What is a first look and how is It usually done?
The first look is a special moment where both the bride and the groom decide to do away with traditions and see each other before the ceremony begins. It is meant to capture their reactions and expressions as they gaze upon their respective partners in their wedding attire for the first time. Some couples can be dating for years but seeing each other on the wedding day is a special moment worthy of being immortalized through film and photographs.
In most cases, the first look takes place a few hours before the wedding ceremony. It is supposed to be a private moment and so the bride and the groom decide to meet in a room with only close family nearby. The groom stands with his back turned to his bride who then walks up to him and taps him on his shoulder. He then turns around to see his beautiful soon-to-be-wife standing in front of him looking as stunning as ever and the bride sees the love of her life ready to spend his whole life with her.
The first look is captured usually by photographers or videographers to immortalize the special moment. The bride and the groom can then look back at that moment in the future and see their expressions and reaction to one another. Some couples do the same in very creative ways to create wonderful memories.
Why you should do a first look?
If you are unsure about doing a first look at your wedding, the following might help you decide.
Quiet private time – Weddings are always a busy event especially for the bride and the groom. After months and sometimes years of planning, the wedding day will still be very hectic for both no matter how well everything is going on. Stress and tension can be very high for both the bride and the groom. The first look allows both you and your partner to have some quality, quiet time together and relive some of the stress. As it's always done in a room devoid of guests, it can help you collect your thoughts and have some peace and quiet time too.
Calming effect on nerves – As mentioned above, weddings can be very stressful for both the bride and the groom. If something goes bad during the event, it can create a lot of tension and ruin your special day. When you go for the first look, you can take some time for yourself and get rid of any stressful or nervous energy inside you. This way, no matter what happens, you and your partner will be happy, cheerful and full of positive energy during the ceremony.
Save time – Usually, the ceremony is followed by hours of photography which can easily tire both the bride and the groom. When you have a first look, you will not only be in a room with only close family members but you can also get the bulk of the photography session done right then and there. Whatever is left can then be taken during the wedding party. As most of the pictures have already been taken, you and your partner will be free to enjoy your wedding at your own pace.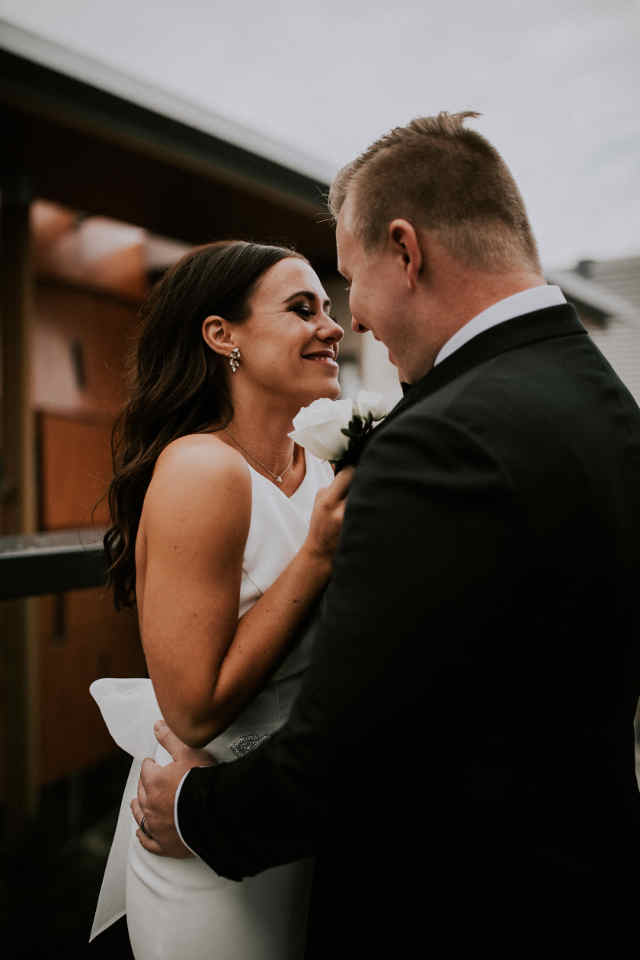 Why you shouldn't do a first look
Going with a first look also has a few cons and while they might not be deal-breaking for some, you may want to know them before deciding.
Losing that special moment – By not having a first look, you will be able to see your partner for the first time on your wedding day during the ceremony with music playing in the background surrounded by guests and loved ones. Due to the popularity of first look these days, sometimes it might feel a bit rehearsed and take the joy out of seeing each other especially if the photographer wants to get more shots. Without a first look, your reaction and emotions will feel more organic and natural.
More effort – If the ceremony is to be held earlier in the day, then you might have to get up at dawn and get ready to do the first look and have enough time for the ceremony. Although this may not happen every time, when it does happen, it can be a bit of a bother. From the crack of dawn till evening, you will have to be on the go. This will surely tire you out and prevent you from really enjoying every single moment of your wedding day.
Expectations vs reality – When you are seeing each other for the first time in the ceremony, you will organically express yourself even if you aren't aware of it. First looks, on the other hand, feel a bit rehearsed for some and this might stop them from expressing how they truly feel. Not everyone feels comfortable having their special moment while being under pressure to get a great looking photograph taken. While some couples shine during this moment, others may not. This of course doesn't mean anything regarding how you feel about each other but if it's uncomfortable for you, why do it?
A few tips for a great first look
There are no particular guidelines to follow to have a successful first look but here are some tips to make it feel extra special.
Plan the space – During a first look, you can choose who all to have in the room. If you are comfortable having a lot of people, go for it. If you want it to be a private affair, then that's perfectly fine too. As it involves two individuals, both you and your partner need to decide beforehand what kind of a first look you want to have. Keep in mind the more comfortable both of you are, the better the moment will be. If you have differing opinions, try to end up with a compromise. Even if one partner is uncomfortable, you will lose the joy out of that special moment.
Keep it natural – Many couples plan the moment and almost act out their expressions in an exaggerated way to get a great photograph. However, over time that moment will feel fake as it didn't come about organically. When having wedding photographs taken, it can be quite tempting to act out the moment rather than to live it. While it may benefit you in the short term, you may regret it later on. So always be natural and don't express yourself in ways you normally wouldn't. The first look isn't about how great both of you look but a way to capture your real expression and emotion when seeing your loved one for the first time on your wedding day.
Lighting and location – While you should never force an emotion or expression on your first look, it is certainly good to lock in on a great location beforehand. How you feel and react in that special moment will also be somewhat influenced by the environment around you. Every wedding venue differs from each other and while some places might get better lighting indoors, in other places, it might be better to have the first look outdoors. If it is outdoors, you will have to plan accordingly based on whether you want to have people near you or have a private affair.
Take your time – If you don't feel like having the first look during the pre-set time, you can either do it later (if you have enough time) or skip it altogether. Don't do it for the sake of doing it. If you feel nervous about it or are stressed, talk to your maid of honor or best man. If you still feel nervous, skip it. If you feel comfortable enough to do it, go for it. Your first look is all about being comfortable and doing away with stress. If the opposite is happening, don't do it or do it when you feel it's the right time. The only thing to make sure is that you don't do it less than an hour before the ceremony.
Accentuate it with gifts – While giving gifts isn't the norm at first look, it certainly adds to the moment. Here the size or the value of the gift isn't what's important. Something as small as a bouquet or even a handwritten love note can make all the difference in the world. As the groom will always have his back turned to the bride, both the groom and the bride can hide their gifts and reveal them once they see each other.
In short, the first look is all about being in the moment and expressing yourself to your loved one. There are no right or wrong ways about it because it's more about the love you have for one another. You can make it as small and intimate as you want or as grand as you want. As long as both of you are comfortable in that moment, nothing else matters.
Related Questions
Why do couples do a first look?
There are many reasons why many couples do a first look on their wedding day. Most of them have been mentioned above but more than that, the reason also lies with the type of individuals. Some couples have great chemistry with one another and can express themselves naturally in front of photographers and videographers without feeling uncomfortable. Due to this, they can immortalize that special moment and relive it whenever they want. There are many creative things you can do with a first look to make the wedding more memorable too.
When should you do your first look picture?
To make the first look feel special, organic and memorable, it is very important to never force yourself to do it if you don't feel comfortable at that time. This makes setting a time for the first look quite tricky. As the first look is intended to be captured with a camera, sometimes the time for it may depend on lighting as well. So while the time slot can be quite flexible, the only rule you should follow is to have it at least an hour or two before the ceremony. If for some reason it cannot be done an hour before, then it would be wiser to skip it.
Is doing a first look bad luck?
Absolutely not! The idea that the groom and bride seeing each other before the ceremony results in bad luck is a silly superstition. The real reason why the bride and the groom are kept away from each other until the ceremony is because of traditional arranged marriages that were the norm in the past. During that time, the groom was not allowed to see the bride in order to make sure that he would go through the wedding regardless of the bride's identity or appearance. Arranged marriages at that time was more a financial transaction between families rather than what it is today.
Header Photo © Hermes Rivera / Unsplash