A bride doesn't mind spending a large sum of money on the dress that she would be wearing on her wedding day. That's because the wedding day is, arguably, one of the most important days in the life of a woman. This is the day when she would want to look her best. However, it must be noted that wearing something for the wedding and wearing something while getting ready for the wedding are two different things. Even the kind of costume you will be wearing while getting ready for the wedding is important as pictures will be taken during this time. So, what should a bride wear to get ready?
In general, if you want to wear something casual and fun, wearing button-down shirts would be a good option. Matching hoodies are also a good option. Getting the hair and makeup done is a fairly elaborate process, so you should wear something comfortable like a super-smooth silk robe.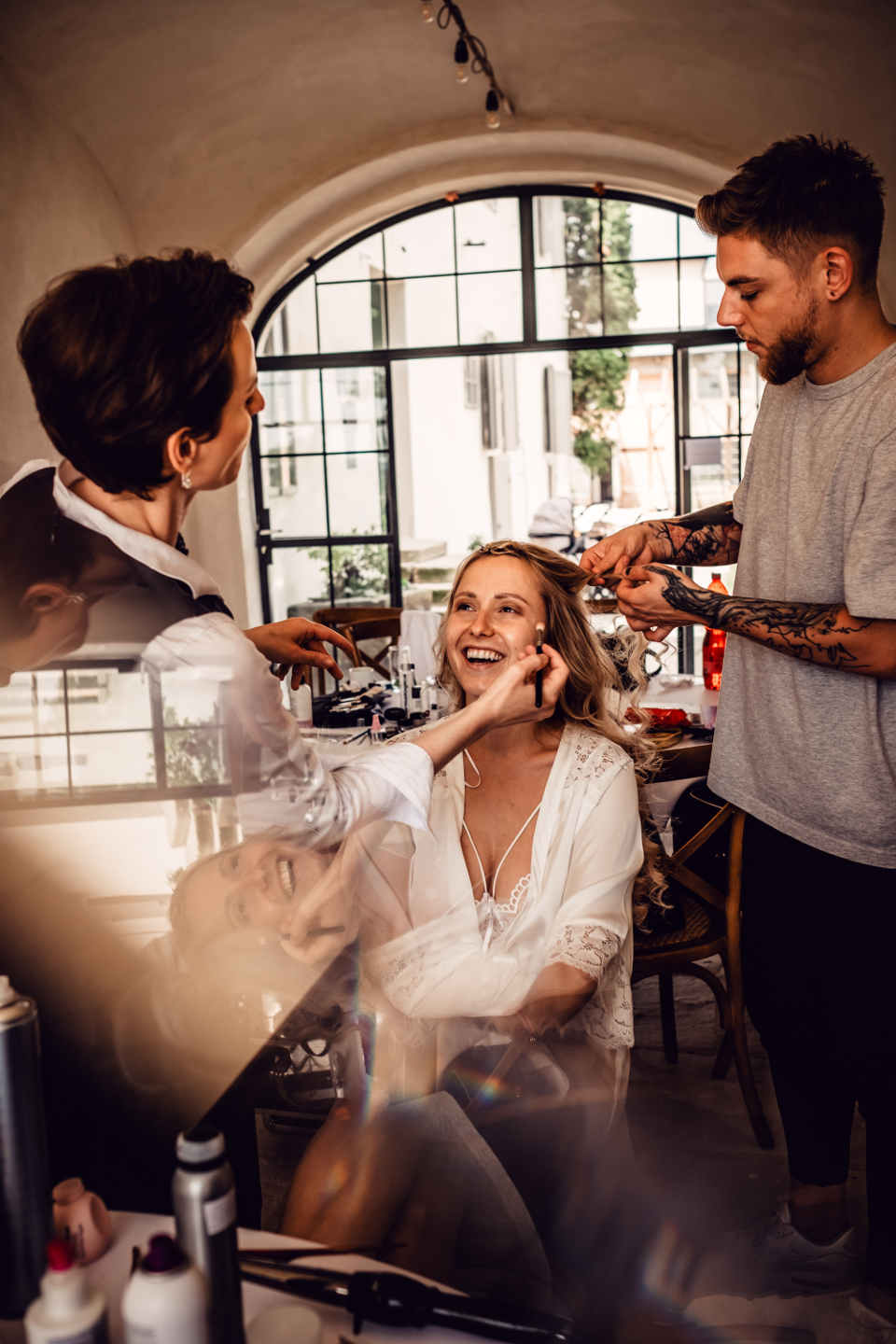 What to wear while getting ready for your wedding?
When you think about what to wear while getting ready for your wedding, you will have options at your disposal. You could either decide to go with the trend or wear something that makes you feel at ease. Since these moments will be captured on camera, you must wear the kind of clothes that will help you look photogenic or good on camera. Your bridesmaids will be a part of the photoshot and hence you can also wear matching clothes. (Recommended article: "Planning the Perfect Wedding Day Timeline")
Matching robes
Silk robes are extremely comfortable and also have a sense of luxury to them. A lot of brides and bridesmaids prefer wearing them while getting their hair and makeup done as the comfort provided by these robes helps them sail through the long hair and makeup sessions smoothly. When it comes to robes, you can find them in a variety of designs and colors. Your bridesmaids and you could either wear matching robes or each of you could wear one that reflects your style.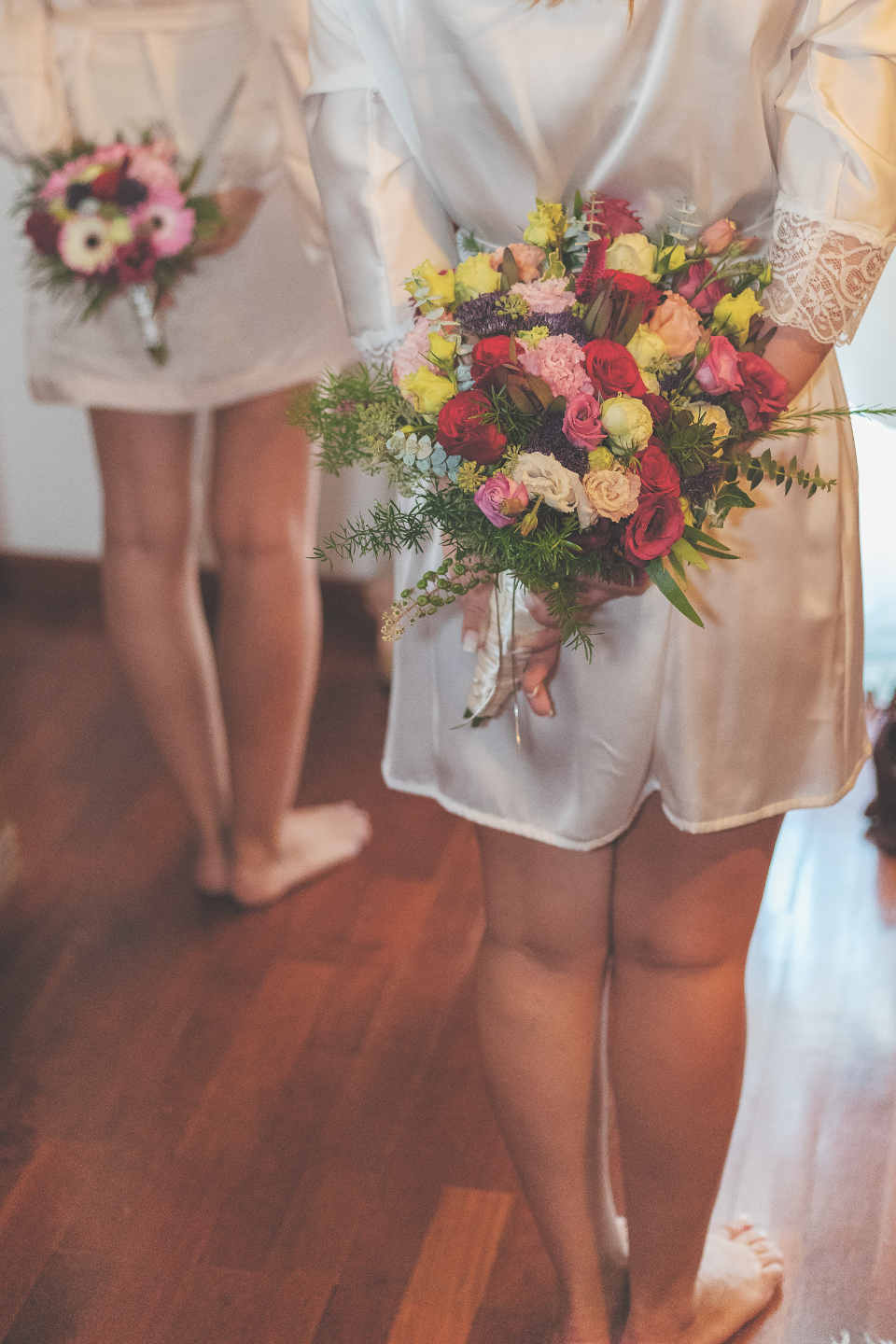 Tees and tank tops
If you want the getting-ready pictures to have a youthful and fun vibe to them, you can buy a bunch of casual tees or tank tops for you and your bridesmaids. You could come up with a variety of concepts to make these appear interesting. For example, each word from a line like 'I am getting married' could be printed on a top each and you can stand in a line together while getting a picture clicked so that the entire sentence could be read. If you are organizing things on short notice, opting for tees and tank tops would be a good idea as they can be easily sourced out.
Matching hoodies
Hoodies are warm, comfortable and go down well with most occasions and seasons. While fashion trends keep changing, hoodies always remain in vogue. If you think wearing normal hoodies would be a bit boring, you could customize them according to your preferences. You could, for instance, wear a hoodie of a particular color and your bridesmaids could wear similar colored hoodies with some inscription on them.
Button-down shirts
Speaking of unconventional options, opting for button-down shirts wouldn't be a bad idea. If you and your bridesmaids will be visiting a salon to get yourself ready for the wedding, wearing robes or hoodies might not be the best option. A lot of brides and their bridesmaids go for button-down shirts these days while getting ready and pictures clicked during this process. Button-down shirts are in trend and you shouldn't be worried about looking weird while wearing them. While they make you feel comfortable when getting your hair and makeup done, they are also convenient to remove and don't possess any potential threat to your makeup.
Pajamas
Pajama parties are very popular and so is the practice of getting ready for your wedding while wearing them. Apart from the fact that they are super comfortable, an important reason to wear them is that they never go out of trend. If you have an early morning wedding and you have planned some games with your bridesmaids during the night, then getting pajamas for everyone would be a very good idea.
Long striped shirts
There was a time when striped shirts were considered to be a formal piece of an outfit. Now, most people have acknowledged the fact that the classiness and elegance they exude make them suitable for any occasion. If you are planning to get dresses for yourself and your bridesmaids, you could opt for long striped shirts and wear them like dresses. If your wedding is taking place during the summer season, then that's another reason why you should opt for long striped shirts while getting ready.
Mismatched clothes
This is where you can get extremely creative and not just make the process of getting your hair and makeup done but also getting pictures clicked more fun. While a lot of brides opt for matching clothes during a getting-ready photoshoot, wearing different kinds of clothes brings a sense of dynamic energy to a frame. The best part is that there are no rules here. While one lady could be wearing a dress, another one could opt for pajama shorts. You could make it further interesting by getting half of the bridesmaids dressed in formal clothing and the rest could wear casual dresses.
Rompers
Rompers prove to be one of the most preferred outfits when it comes to selecting outfits that could be worn while getting ready for your wedding. Though resembling a jumpsuit, a romper has shorter sleeves. If you wish, you can buy a mix of jumpsuits and rompers too. Rompers are mostly preferred for weddings that are organized in spring or the summer season but the fact is that they look good and are comfortable to wear in any season. Even if you buy a jumpsuit for this particular purpose, you can use it on several other occasions as well.
Related Questions
How many hours before the wedding should the bride be ready?
Ideally, the bride should be ready at least 2 hours before the wedding ceremony is about to start. When we say 'ready', we mean the bride should be done with both her hair and makeup. If the venue of the wedding is far away from where the bride is getting her hair and makeup done, then she must get ready at least an hour before she is supposed to leave for the venue. For my sister's wedding, we had booked a venue that was on the outskirts of the city. Since the wedding ceremony was scheduled at 5 pm, she had to leave by 2 pm to reach the venue between 3:30 – 4 pm.
How long does it take the bride to get dressed?
Most brides take 30-45 minutes to get ready. However, there is no set time for a bride to get ready. In regular life, some women get ready quicker while some women take a long time to get themselves prepared for an outing. Similarly, some brides get dressed up in no time but some like to spend some time adjusting their dress, looking into its finer details and ensuring that they are wearing it in the best way possible. Since the wedding day has a lot of significance in a bride's heart, she wants to ensure that she is well turned out for it. A friend of mine who got married recently is generally very finicky about the clothes she wears. She took almost an hour to get dressed for her wedding! (Recommended article: "Who Pays for the Bride's Wedding Dress")
Header photo © Victoria Priessnitz / Unsplash