Maids of honor are an esteemed nuptial tradition that offers the bride an opportunity to celebrate and enjoy the men or women they trust and love the most. However, choosing a single maid of honor may become a challenging task given the number of favorite persons you have in your life. For instance, in the case of more than one sister or two close best friends. Choosing one person becomes really embarrassing and difficult. There are no written rules written on stones that you are allowed to have only one maid of honor. Hence, nothing is stopping you from choosing two maids of honor – both your best friends or sisters.
Can you have two maids of honor? These days, the age-old traditions are slightly changing when it comes to weddings and bridal parties. Today brides are choosing more than one Maid of Honor more and more often.
The significance of having a maid or man of honor is a substantial one that involves assisting many tasks, online searches, shopping trips, and most importantly, planning a dedicated bridal shower or a bachelorette party for the dear bride. It is actually quite a smart choice to assign these tasks to two maids of honor. You can divide the time-consuming tasks among them. (Also read: Who Pays for Bachelorette Party?)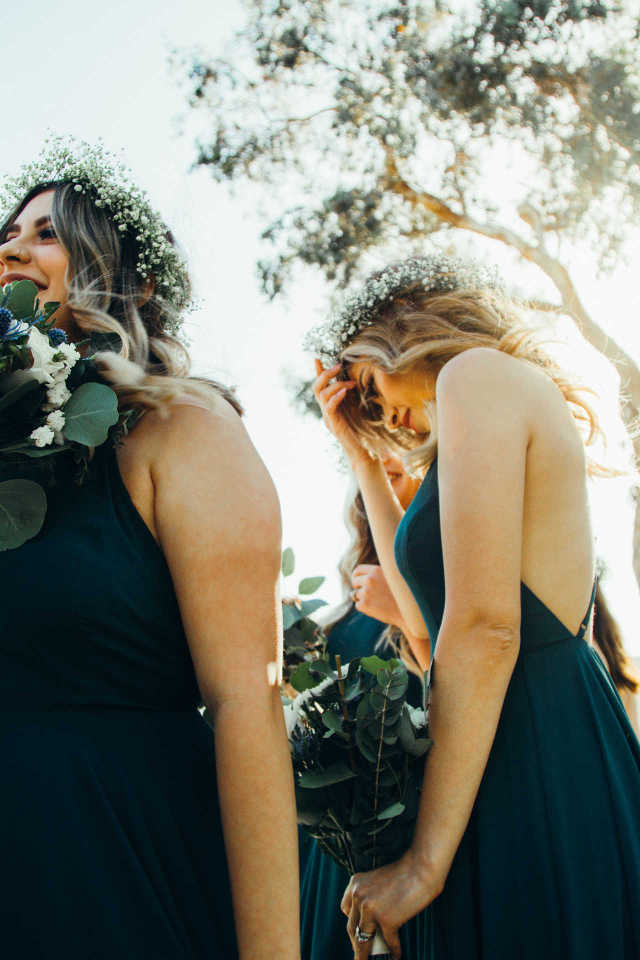 So, if you are charmed by the concept of having two maids of honor, here are 4 tips that may come handy
Decide if you require two maids of honor – There are no set rules when it comes to choosing a maid of honor. If you want, you can freely and willingly select more than 1 who are responsible enough and you should be able to count on them for your wedding day. However, if you choose someone based on pressure or if she is guilt-tripping you, reassess your decision as to what exactly you want on or before you walk down the aisle. In the end, it is your wedding.
Think about conflicts – When you appoint two of your BFFs or sisters as your co-maids, make sure they are well-acquainted, not only with you but also with each other. There should be a dynamism between the two. Firstly, get your maids of honor familiar with each other and let them bond over your wedding plans. The closer your maids are, the less problematic conflicts will arise between them. Conflicts are bound to occur since no 2 persons have exact taste, but the conflicts should resolve on its own, peacefully and politely. It is extremely important to nip bad history, jealousy, or even pettiness that may be bubbling between them.
Expectations should be well-communicated to your maids of honor – Allocating different tasks between your MOHs does not necessarily have to be complex. Just make a brief outline of your expectations from them about their responsibilities. This may require teamwork. Do not forget to maintain a healthy relationship between them.
Help them stand out– On your wedding day, you want to feel special with all the attention on you. But it is as much special for your MOHs as it is for you. There is a lot of ways that may make them feel special. Listen to their plans, let them throw in their ideas of what they want to wear, or help them select their bouquets. Celebrate their individuality, they are doing it for you, for your big day.
Related Questions
If a bride has two maids of honor, does the groom require two best men too?
Again, there are no set rules regarding the number of best men when it comes to the groom. This "rule" applies to both the bride and the bridegroom. If the groom does not want to have 2 best men, he can have just one. This is not as difficult as it sounds since you can always organize uneven wedding parties as long as they are fun and look good.
Can the bride's mother be the MOH?
Of course! The honor attendants of the bride may be assigned to anyone who she feels the closest to or trusts the most. And for most women, it is common for them to choose their mother as their maid of honor.
In the case of 2 honor attendants, who stands where?
The MOH standing next to you should be the one who you trust the most and can trust her with veil-straightening and train-fluffing duties. Let's not forget the other maid. Give her the task of holding your bouquet throughout the ring exchange ceremony.
How to arrange MOH for the processional?
You can handle the processional in many ways. It all depends on the elements of the ceremony. You can have both the maids enter together, along with the single best man in the middle. In the case of 2 best men, each of your MOH can enter with each of the best men. You can also have both the maid enter without any male escort. All of these are the options for a processional.
Conclusion
So, having two maids of honor is absolutely fine. Do not let your family members or friends tell you otherwise. It is your wedding day and you should the sole decision-maker however, you want your wedding to be. If you want to have more than two maids, you can go for it. Though the scenario may turn into chaos with more opinions and ideas. The idea of having 2 bridesmaids does not only apply to the bride. The groom too can have more than 1 best man, cause why not!
After you have chosen your bridesmaid, make them feel like they both are super important for you and your wedding. Once you tell them that there is no way of choosing 1 over the other, they are going to love the importance and attention from you.
If you are hosting a large wedding party with a long guest list, having 2 MOHs may make the tasks easier if the tasks are divided between the two.
Header Photo © Fernanda Prado / Unsplash