No wedding is ever complete without flower arrangements. The more elaborate the floral arrangements, the grander the wedding looks. When you start preparing the budget for your wedding, you cannot make the mistake of excluding the cost of buying flowers. Different varieties of flowers are used in a wedding for multiple purposes and one must take that into account while setting aside a certain amount of money to be spent on a wedding. Several factors, including the type and volume of flowers you buy, go on to decide the total amount of money you will be spending in buying flowers. If you are about to make a budget for your wedding, you might wonder how much do wedding flowers cost in 2021?
On average, procuring wedding flowers could cost anywhere between $600 and $3,000 in 2021. The cost of flowers covers several items ranging from the bouquets you will be buying to the floral decoration that will be put up at the reception. Some of the important factors that influence the pricing are the venue of the wedding ceremony, the season and the vendor you buy the flowers from.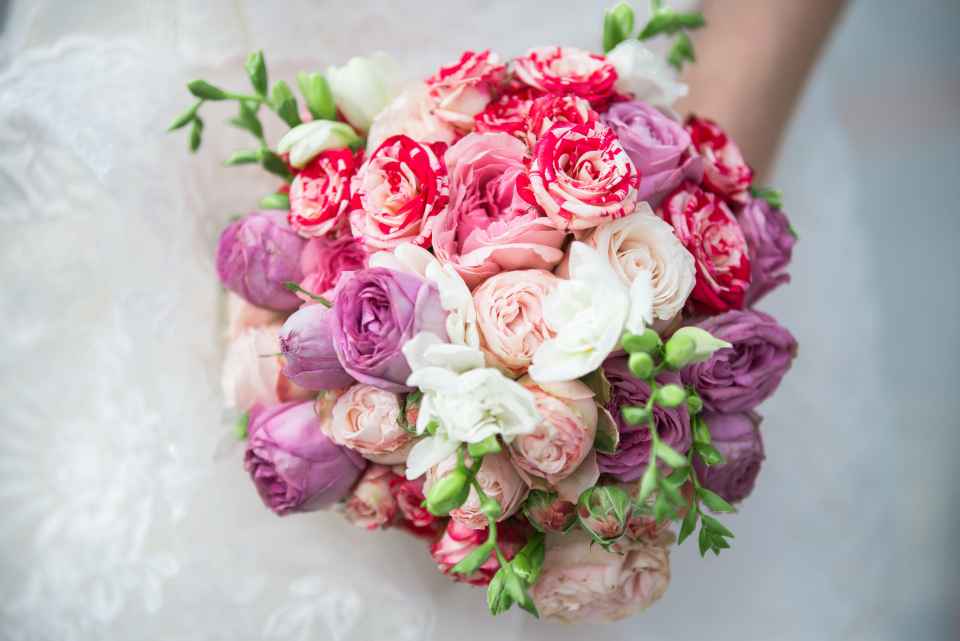 How much do real wedding flowers cost?
Depending on the amount and the kind of flowers you need, procuring real wedding flowers could cost anywhere from $100 to $1000. (Recommended article: "What is the Most Expensive Part of the Wedding?")
What is the average cost of flowers for a small wedding?
For a small wedding, the average cost of flowers would amount to around $1,500. Regardless of the size of the wedding, it is advisable to set aside 8-10% of your total wedding budget for the flowers. Two years ago, we organized a small and intimate wedding for my sister and ended up spending around $1,300 on buying the flowers.
What is a reasonable budget for wedding flowers?
For small to medium size weddings, you can set aside a budget ranging between $1,300 and $1,500 for the flowers. If you are organizing a large wedding, then a budget of $5,000 should be good enough for getting the floral arrangements done. When we approached a wedding organizing company a couple of months back for my brother's wedding, they advised us to set aside 8% of our total budget for the flowers. Our family has had a great tradition of incorporating elaborate floral arrangements during our family weddings, so we didn't want to compromise this time either. The budget for floral arrangements during the wedding was $3,500.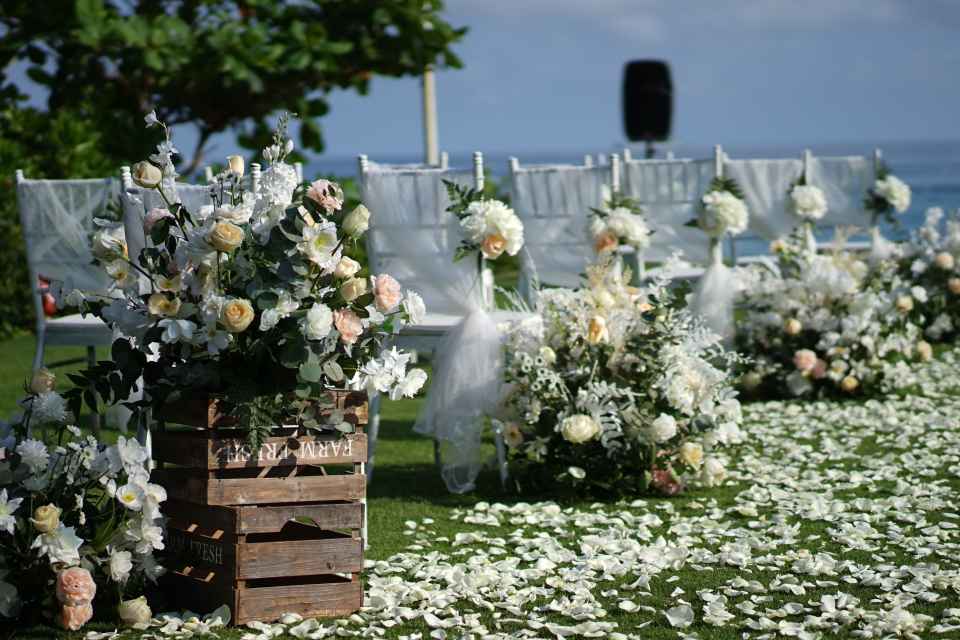 How much should I spend on wedding centerpieces?
Depending on their budget, people spend between $80 – $400 on their wedding centerpiece. The budget for the centerpiece is determined by factors like the number of tables used during the day and the type of flowers you want to put on it. These days, the centerpiece is not the only piece of furniture or table on which flowers are placed during the ceremony. A lot of people use the head table and the dessert tables for floral arrangements as well. (Recommended article: "How Much Does a Wedding DJ Cost")
Is it worth it to DIY wedding flowers?
If you like the concept of DIY wedding flowers, then opting for them would be worth it. My cousin used DIY flowers at her wedding and was quite happy to see the way things turned out. One of the biggest benefits of using DIY flowers is the fact that they help you cut down on your overall budget for floral arrangements. When you decide to go for DIY flowers, you don't have to hire a wedding florist. Instead, you can design and lend your personal touch to the floral arrangements. You get to have better control over the varieties and colors of the flowers that are chosen for the wedding. You can use your creative energies behind the floral arrangements at your wedding and that would make it more special.
Is it cheaper to make your own wedding bouquets?
Yes, it is cheaper to make your wedding bouquets than hiring a wedding florist to do the same. That's simply because you will now be doing the job that you would have got done from a professional florist. For my sister's wedding, I, along with my cousins brainstormed ideas for the wedding bouquets and put them together on our own. By doing this, we not only managed to save up on money but also brought our creativity to the fore.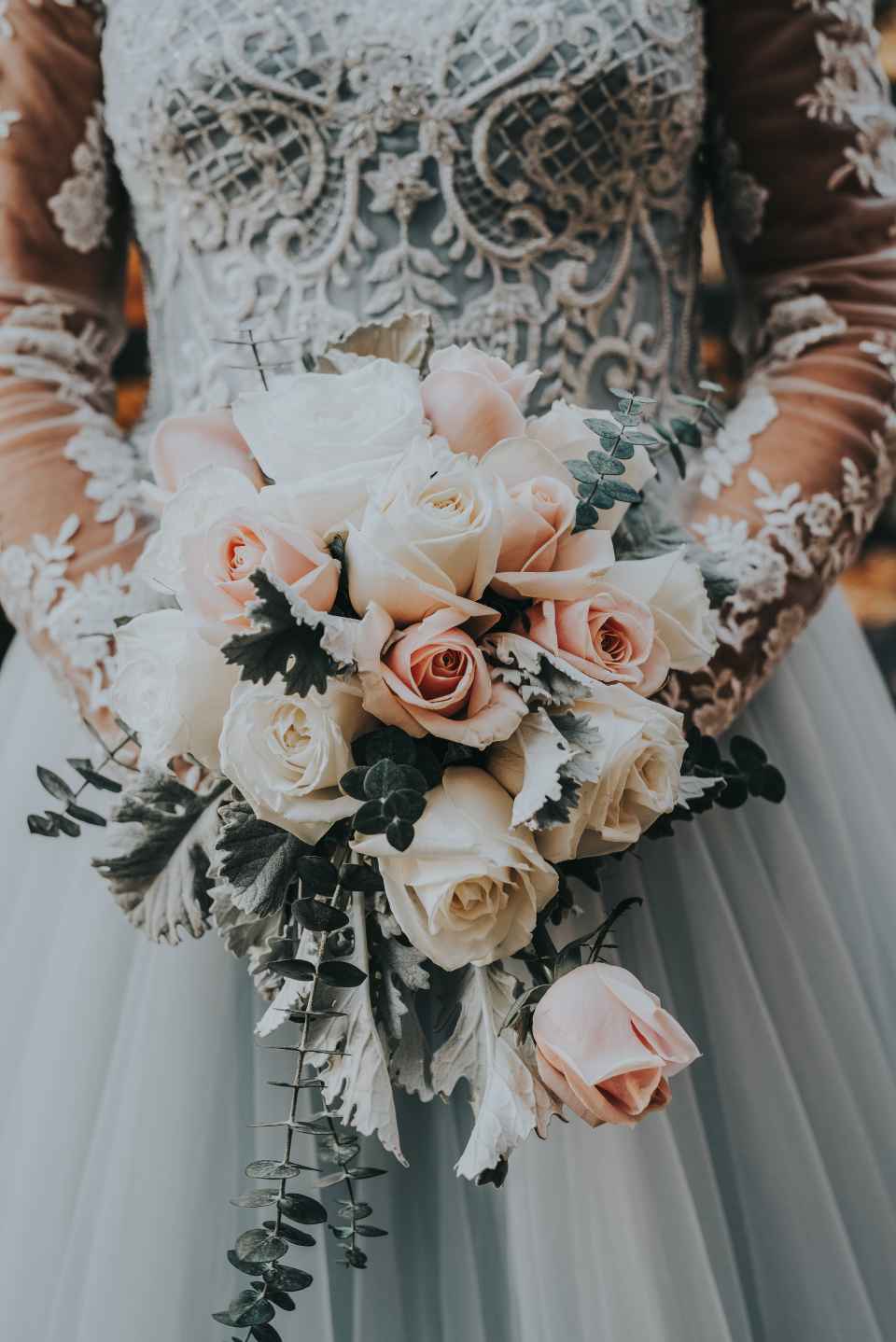 Is it easy to make your own wedding bouquets?
Initially, the thought of making one's own wedding bouquet could be a little daunting for somebody who has never done it in the past. However, if you procure the right material and follow some simple steps, you will be able to put together a bouquet sooner than you think. When my sister was getting engaged, the rest of my siblings read a manual, watched a few videos on YouTube and then, confidently, made a bunch of wedding bouquets on our own.
Is it cheaper to use fake flowers for weddings?
No, it is not cheaper to use fake flowers for weddings. Good quality artificial or fake flowers are made of silk and therefore, are more expensive than real flowers. The only way in which you can save money by buying fake flowers is when you opt for the kind that is made of cheap or inferior quality material. A lot of people find artificial flowers more alluring than real flowers and that's the reason they choose them for their weddings.
Is it OK to have fake flowers at your wedding?
Yes, it's perfectly fine to have fake flowers at your wedding. A lot of couples I have known have used fake flowers extensively at their weddings and have been very happy with their decision. Fake flowers are far more long-lasting and sturdier than real flowers and you will never have to worry about them withering away. Another advantage of using fake flowers is that you can carry them home and use them at your place after the wedding ceremony or the reception has concluded.
How much should you spend on fake flowers for a wedding?
A bouquet of fake or artificial flowers made of silk could cost anywhere between $20 and $100. Everything comes down to your budget. You can get bouquets made of artificial flowers even for $300. With a budget of around $1000, you can have enough artificial flowers for the floral arrangement during your wedding. My friend who got married recently preferred artificial flowers over real flowers and procured them in a lot from an online store.
What is the average price of a wedding florist?
A wedding florist charges a particular amount based on his experience. On average, wedding florists charge between $600 – $800 for taking care of the entire floral arrangement during a wedding. If you are organizing a small wedding, you can settle for a wedding florist who has just started and charges between $150 – $200. If you are about to have a big, lavish wedding, you can hire a highly experienced wedding florist who could charge in the range of $2,500 – $3,000.
Related Questions
What is the least expensive wedding flower?
I am not sure if you can ever find an answer to that but there are certain types of flowers that are quite inexpensive and are ideal to be used in weddings where you are operating on a very tight budget. Roses, for instance, are readily available and very cheap. Some of the other varieties that could count as inexpensive wedding flowers include hydrangeas, gerbera daisies, daisy spray, solidago, alstroemeria, tulips and lilies.
What is the most expensive wedding flower?
It would be hard to specify as to which is the most expensive wedding flower as many factors play a part in determining that. Peonies are one of the most sought-after flowers for a wedding ceremony. Because of being very expensive, you will mostly find them at lavish weddings. Anemones are another variety that you will come across at large weddings. They are referred to as 'graphic flowers' by many because of their black-and-white color combination. Some of the other expensive wedding flowers include dahlias, ranunculus, lilacs, sweet peas and orchids.
How much do wedding flowers cost UK 2021?
If you are based in the UK and are looking to have a good floral arrangement at your wedding, it would be advisable to set aside a budget of £1,000 for it. The larger the wedding, the higher would be the expenses for the flowers. You can reach out to a professional wedding florist, inform them about your budget for the wedding and could seek their help in finalizing a budget for the wedding flowers. The style, size and volume of your flower order are the factors that would play an important role in determining the budget of wedding flowers.
How much do wedding flowers cost Canada 2021?
If you are organizing a wedding in Canada in 2021, the cost of procuring flowers could be anywhere between $500 – $2,500. Once you decide the type, variety and number of flowers you want to have, you will be able to set aside a budget for it. Wedding florists offer a variety of packages when it comes to buying flowers. You can opt for the package which, you think, suits your requirements. If you do the floral arrangements yourself, the cost would be much lesser.
Header photo © Beatriz Pérez Moya / Unsplash