Contrary to what a lot of people believe, there are no rules or conditions attached to choosing one's wedding ring. People often start toying with the idea of buying a matching wedding ring while looking for a suitable engagement ring for them. Some people contemplate buying a wedding ring later but even then, they want to go for a ring that matches the engagement ring in terms of build and design, so should your wedding ring match your engagement ring?
That no rule states that the wedding ring should match the engagement ring. A lot of people choose to wear vintage rings or rings that boast a very unique design. Therefore, it would be quite difficult to find a wedding ring complementing such designs or rings.
While opting for a wedding ring that matches your engagement ring is fine, getting a ring for your wedding that looks different from your engagement ring would help the guests differentiate between the two easily. There are endless possibilities when it comes to choosing a wedding ring and the choice would be entirely yours. There is no rule that compels you to pick a ring of a certain kind. (Recommended article: "How much should you spend on an engagement ring 2021?")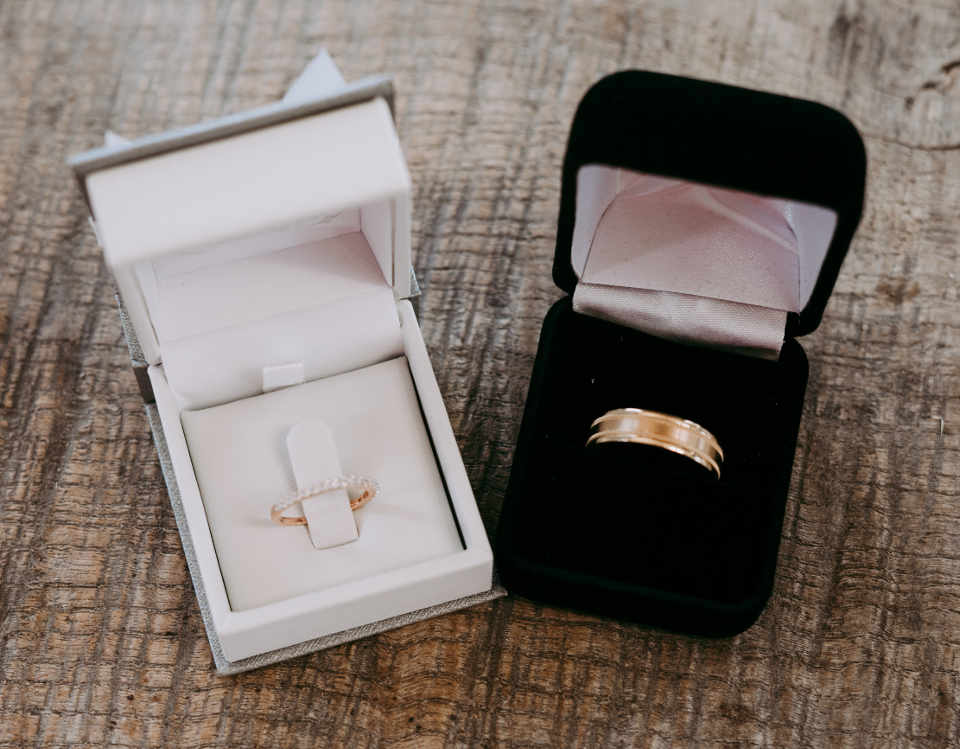 Is it important to match the engagement ring and the wedding ring?
It all boils down to your personal choice and preference. Do not let anybody dictate you or make you believe that your wedding ring must match your engagement ring. Whether you buy the rings or your parents do the needful, you need to do a lot of research before you finalize the rings you want to buy.
These rings are more special than any other ring you might have worn in the past or are wearing. These will symbolize the bond or the relationship you will be sharing with your partner for the rest of your life. Matching or not, they should be the kind that makes you safeguard them forever. (Recommended article: "Who Pays for the Wedding Rings?")
What is the difference between an engagement ring and a wedding ring?
The primary difference between an engagement ring and a wedding ring is the fact that the former is exchanged during the engagement ceremony or at a proposal and the latter is required on the eve of the couple's wedding ceremony. The similarity between the two rings is that both represent a sense of love and commitment. Both the rings are supposed to be worn by the couple for as long as they are together and alive.
Traditionally, a wedding ring boasts of a simpler design as compared to an engagement ring. A wedding ring is usually a classic band such as a rose gold ring or a band with small diamonds on it. Mostly, gemstones and large diamonds don't feature in wedding bands. When it comes to engagement rings, there are no such specifications. They could be of any type, size or shape. Just make sure you get one that your partner likes.
How do you match engagement ring and wedding band?
There are various things to consider while matching the engagement ring and wedding band. If you have decided to match your engagement ring and wedding band, then you need to get a good idea about how one does it. Just like your engagement ring, you will be wearing your wedding ring for the rest of your life. Once you buy an engagement ring that you like, you should start thinking about a wedding ring that would go well with it and is also in sync with your taste. Let's look at a few important things to consider while matching the engagement ring and wedding band.
Engagement ring settings – When you are trying to choose the right wedding band that will match your engagement ring, the first step is to get a good amount of information about the various kinds of engagement ring settings that exist. Various factors like the size of the center stone, its shape, the presence or absence of a halo on the ring, play an important role in determining whether the wedding band will match your engagement ring and complement it well.
Wedding ring metals – The next step involves choosing the color for your wedding band. In most traditional weddings, the wedding band is built using the same metal which was used to make the engagement ring but there is no rule which requires the metals to match. If you are fond of silver and gold jewelry, you must know that it not necessary for you to choose just one for your wedding band and engagement ring. If you pair both the metals together, you will be able to match your engagement ring and wedding band interestingly.
To match your engagement ring and wedding band, here are a bunch of combinations you can try out.
Round solitaire engagement ring and curved wedding band – A curved wedding band pairs up very well with a solitaire engagement ring that is round in shape. It fits in easily around the engagement ring. It almost looks like a nice frame surrounding the engagement ring and makes it look larger than it is by adding width and shine. Though quite similar, a notched wedding band doesn't form a curve around the corner of your engagement ring. It features a small drop in the center that enables it to get adjusted appropriately underneath the center stone.
Pear-cut engagement rings and chevron wedding band – When it comes to choosing engagement rings, most people do consider marquise and pear-cut stones. Even if they don't end up buying it, it does pop up in conversations in which engagement rings are discussed. A chevron wedding band happens to be a pointed band that has a v-like shape to it. Dubbed as fashion-forward by many, they catch one's attention easily. Pair it up with pear engagement rings and see how incredible they look together.
Three-stone engagement rings and pave wedding band – The pave style is preferred by many who wish to pair up their wedding band with a halo engagement ring. If you like rings to sparkle in a way that everybody takes notice of them, then this is a combination you want to opt for. Pave styles also make for suitable options for those who are a little confused about the kind of wedding band they should go for.
Related Questions
Does jewelry have to match the wedding ring?
Your jewelry doesn't need to match your wedding ring. If you insist on picking up jewelry that matches your wedding ring, then it's completely your personal choice. If you are wearing a diamond ring, you could perhaps wear a necklace that is made of diamonds. Being aware of some important tips regarding jewelry selection could prove to be helpful though. Also, instead of matching your jewelry with your wedding ring, you could perhaps match it with the dress you will be wearing to the wedding. (Recommended article: "Who Pays for the Bride's Wedding Dress")
Can you wear gold jewelry with a silver wedding ring?
As far as aesthetics are concerned, gold and silver do pair up well at times. This combination is sure to work when you pay a lot of attention to the kind of gold jewelry pieces you are planning to wear along with your silver wedding ring. The trick lies in getting the right pieces together.
Which is the best metal for a wedding ring?
Tungsten, arguably, is the best metal for a wedding ring. Apart from having proven to be four times stronger than metal like titanium, tungsten is also the most scratch-resistant metal that you will come across for the manufacturing of a wedding band.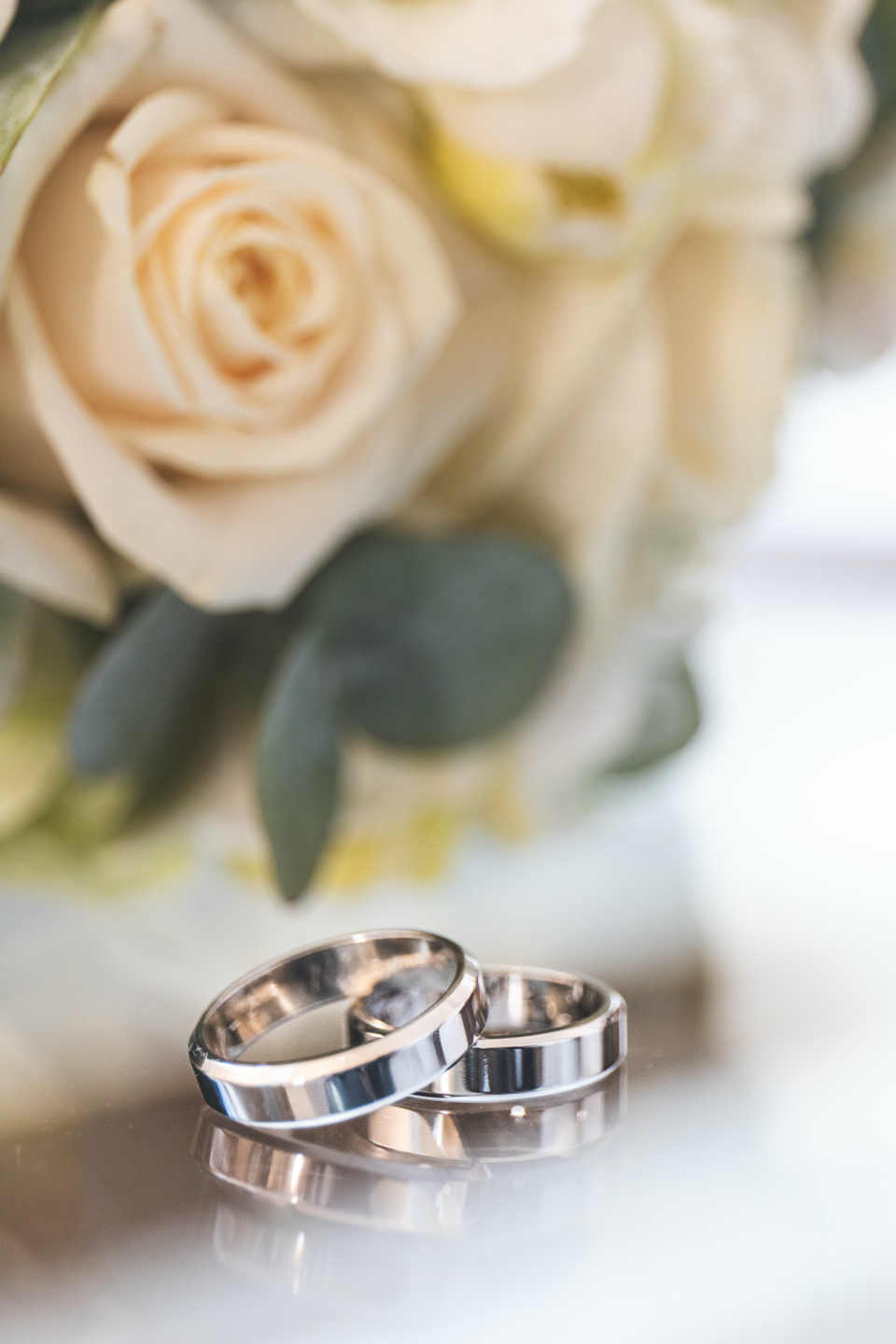 Can you wear your engagement ring and wedding band on different hands?
Absolutely! Whether you want to wear your engagement ring and wedding band on the same hand or different hands is something only you have to decide. Personal choice and at times, cultural preferences play an important role in this decision. Many women opt for wearing engagement on their right ring finger and wedding ring on the ring finger of the left hand.
Header photo © Sandy Millar / Unsplash